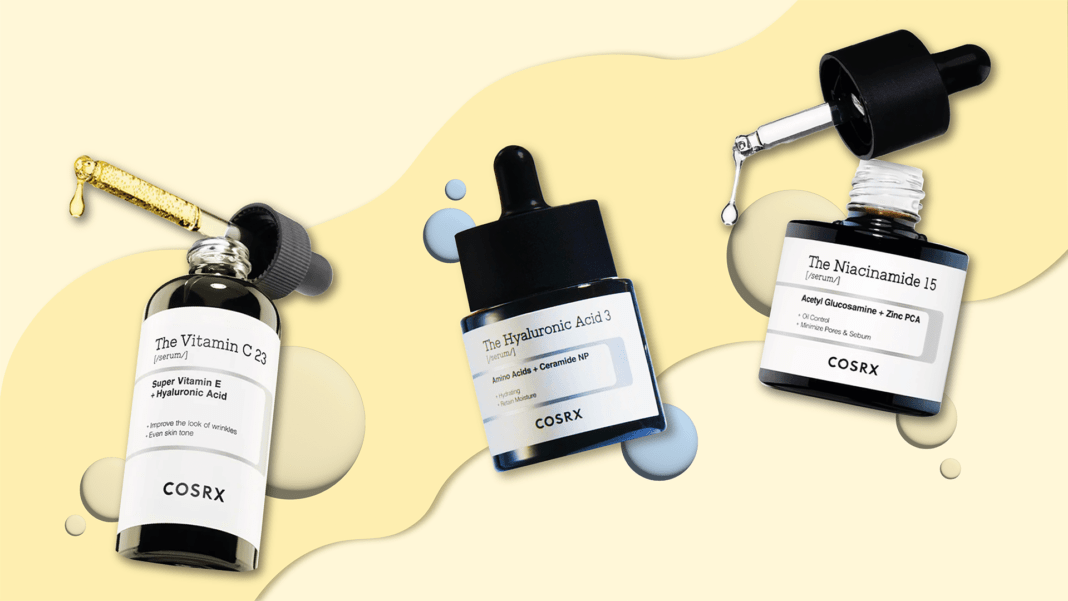 Serums are important in our skincare routine because they can target specific concerns and protect and repair our skin! I tend to invest the most in my serums out of the other steps in my routine, regardless of whether they're a luxury serum or an affordable one! That's why when I discovered three new serums from COSRX that just came out, I knew I had to get my hands on them! The prices are perfect, and the products are great for various skin types! Here are my thoughts!
A quick disclaimer: the brand gifted me the products, and I am under no obligation to write a review. But I decided to go ahead and write one anyway to share the love!
About COSRX
What does COSRX mean?
The name COSRX is a combination of two words: Cosmetics and Rx. The brand is well-known to the general public and has multiple famous awards!
What is COSRX known to do?
COSRX is a brand that helps consumers find solutions to their skin concerns. The brand focuses on gathering customer data and insight to create skincare products – just like how doctors prescribe medication! Their brand slogan is "expecting tomorrow," which means that they want to provide a better tomorrow for their customers through their products.
What products are COSRX best known for?
A few of their hero products include the Advanced Snail Mucin Essence, the Low pH Good Morning Gel Cleanser, the Aloe Soothing Sun Cream, Acne Pimple Patches, and many more! They are one of the Korean skincare brands that have gone viral and have become well-known globally!
What lines do they have, and what are the purposes behind the lines?
COSRX currently provides eight lines:
Full Fit-Propolis for hydration
Pure Fit-Cica products for acne-prone and sensitive skin
Shield Fit-Sun protection
Real Fit-Collection of effective serums
One Step Pad-Simple yet effective toner pads
Hydrium-Hydrating Hyaluronic Acid products
Balancium-Hydrating products for skin barrier repair
AC Collection-Products targeted for acne and acne-prone skin
Each line targets a specific skin concern and skin conditions. Aside from the lines, the brand provides other amazing products as well! Therefore, the brand provides a variety of products for different skincare concerns!
THE RX DermSerums, The New Serums from COSRX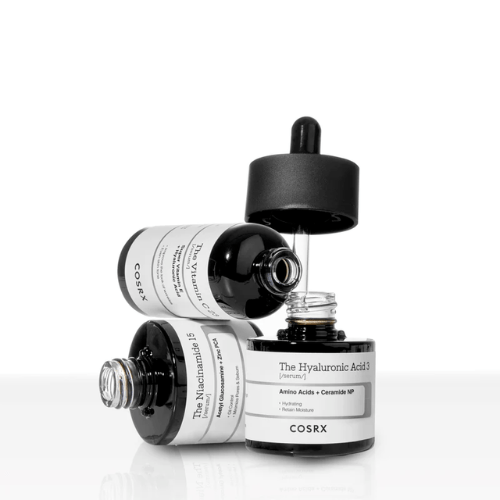 The new RX line is a line of highly concentrated new serums from COSRX. The serums include The Vitamin C 23 Serum, The Niacinamide 15 Serum, and The Hyaluronic Acid 3 Serum, all formulated with research-backed ingredients tailored to solve multiple skin concerns. The serums are concentrated yet pair well with other COSRX products! Read on to learn more about each serum!
The Hyaluronic Acid 3 Serum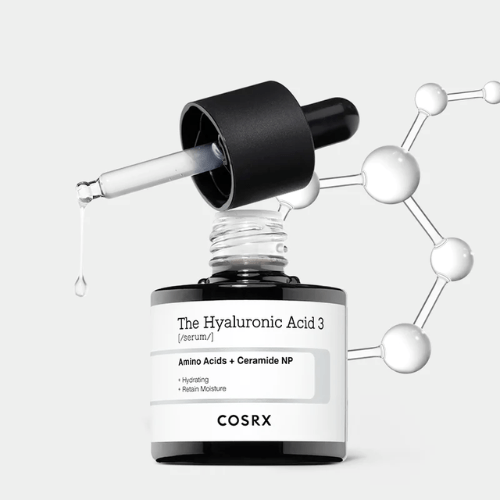 One of the most important reasons why serums are an essential part of our routine is the hydration we can gain from them! Many over-the-counter serums have a 2% or less concentration of Hyaluronic Acid. However, some people may be concerned about how hydrating serum would be with such a low ingredient concentration. To solve that, COSRX created a moisturizing serum with a 3% concentration of hyaluronic acid! Since hyaluronic acid can absorb up to 1,000 times its weight in water, it provides a plumping and hydrating effect! The serum is made with Ceramides and NMF (Amino Acid Complex). Due to this, this is the perfect serum for moisturizing and protecting the skin barrier.
Highlighted Ingredients:
Hyaluronic Acid retains moisture and hydrates the skin.
NMF (Amino Acid Complex) to improves the skin barrier and fights against dehydration.
Ceramide protects the skin barrier from environmental stressors.
Editor's Experience: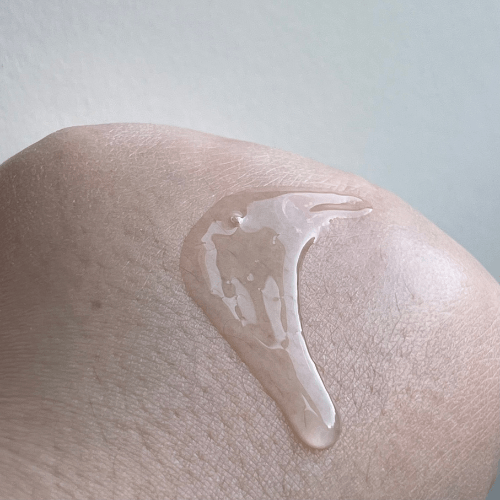 This is probably my favorite serum out of the three despite my skin having a love-hate relationship with Hyaluronic Acid. Sometimes, my skin does not react well to the ingredient Hyaluronic Acid. However, this one keeps my skin calm and hydrated! Overall, this is the perfect serum for all skin types, but especially for those with dry to normal skin!
The Vitamin C 23 Serum
One of my biggest complaints about many Vitamin C serums is that many cause an irritating and stinging sensation upon application! To solve this, COSRX created a Vitamin C serum that can be used for all skin types, especially those with sensitive skin. This Vitamin C 23 serum is created with 23% pure Vitamin C, Vitamin E, and hyaluronic acid, which helps prevent the potentially irritating effects of a high concentration of Vitamin C. This serum is said to brighten the overall complexion of those with dull and dry skin.
Fun Fact! Serums with a high Vitamin C concentration are known to oxidize once exposed to the elements and lose their efficacy in a short period. To prevent this, COSRX developed a unique packaging that helps to expel the gas while blocking the inward flow of oxygen. That way, the serum stays pure for more extended periods!
Highlighted Ingredients:
Vitamin C to fade acne scars and brighten and restore dullness.
Hyaluronic Acid to keep your skin moist and hydrated.
Super Vitamin E (Tocotrienol) improves the appearance of fine lines and wrinkles.
Editor's Experience: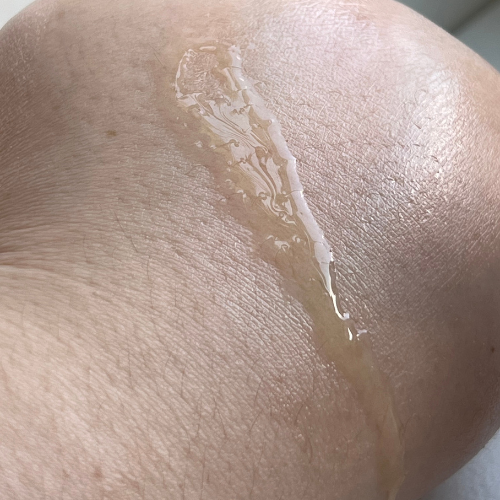 Initially, I was scared about how my skin will react to this serum. However, after testing it out for a few weeks, I found that this serum did not irritate me! One downside is that the serum does not have the most pleasant scent, but the scent does fade if you mix the serum with a basic hydrating moisturizer. Although I don't expect an immediate brightening effect, I'm confident the product will provide long-term results with consistent usage! I can't wait to see better results, but so far, I love this serum due to its amazing blend of ingredients!
The Niacinamide 15 Serum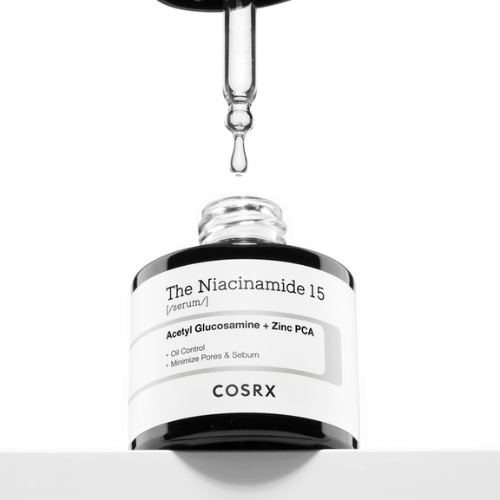 Niacinamide is one of the most popular ingredients for brightening and fading hyperpigmentation and acne scars. With that in mind, COSRX created an effective serum for "total acne care"! The serum is created with a combination of ingredients perfect for those battling acne, such as Zinc PCA and chemical exfoliants. All of the ingredients in this serum help acne at all stages, from cause to resolution, exfoliating, soothing, and clearing acne marks!
Highlighted Ingredients:
Niacinamide (Vitamin B3) provides a soothing effect but also helps to diminish acne scars.
N-Acetylglucosamine (NAG) is a gentler substitute for AHAs. This ingredient helps to exfoliate the skin but also maintains hydration gently.
Zinc PCA reduces excess sebum and balances oily skin.
Editor's Experience: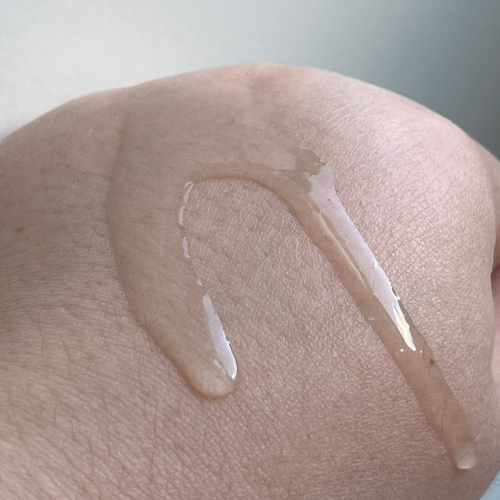 Niacinamide has always been a favorite ingredient of mine, especially for my acne scars and hyperpigmentation! I am impressed with this serum and love how hydrating it is! The serum contains only a few ingredients that help not to overwhelm my sensitive skin while still delivering amazing results! As for the consistency, it's somewhat thick yet light – the perfect in-between. I think it's a wonderful serum that's suitable for all skin types!
Want to see more discount codes? Check out the link: https://shopmyshelf.us/collections/51665
Sign up for our free online newsletter: https://bwth.in/newsletter
Shop all of our curated faves at: https://bwth.in/shop
Subscribe to our YouTube Channel for more information and product recommendations: https://bwth.in/subscribe