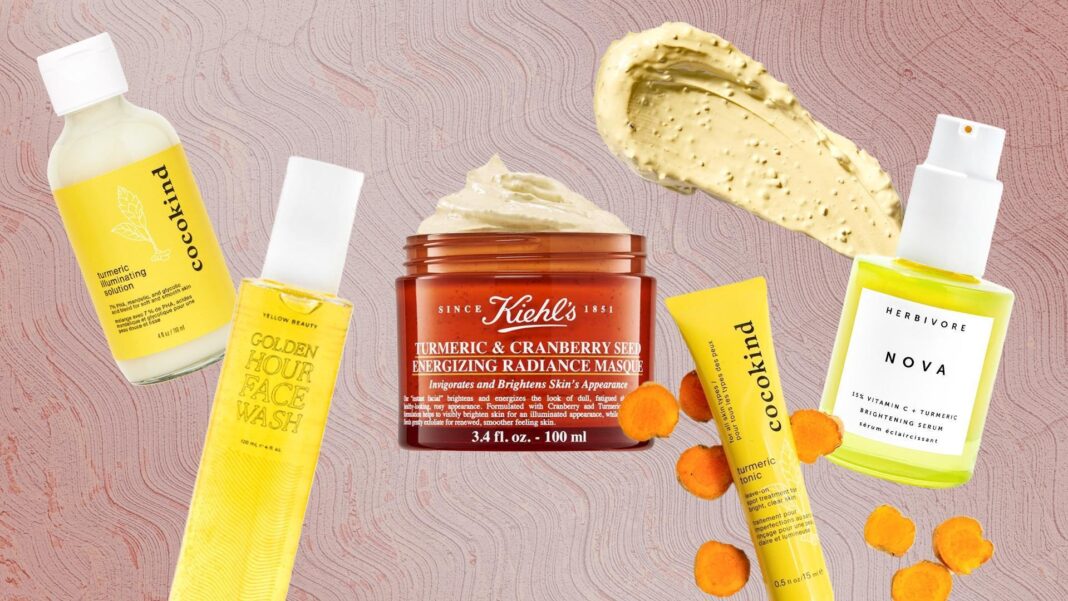 When it comes to searching for a powerful and natural treatment for skin discoloration, your best bet is a turmeric serum for dark spots. It turns out that Turmeric is more than just for cooking; it's also a century-old skin remedy reputable for treating dark spots, sun damage, and hyperpigmentation.
There are so many ways you can incorporate this nifty ingredient to your beauty ritual. You can even consider using food-grade turmeric powder for your D.I.Y masks – although you might encounter yellow staining that could take extra elbow grease to remove. Otherwise, you can opt for skincare products with turmeric to do all the work for you. Here are our go-to turmeric skincare products, especially masks and serums for you to look into!
Turmeric Benefits for Skin
For centuries, turmeric has been known as a healing ingredient for the skin. It contains curcumin, a powerful antioxidant that can benefit skin health. Here are some of the benefits that turmeric can bring:
Decrease excess melanin production: This contributes to skin brightening, fading dark spots, and hyperpigmentation.
Relieve inflammation and fight against harmful bacteria: This makes the herb effective against acne, breakouts, and eczema. The properties also help minimize redness and irritation.
Counteracting free radicals and improving skin collagen can be especially beneficial for anyone with fine lines and wrinkles.
Fade scars: Turmeric is notorious for wound healing and preventing scars from forming.
Promotes radiant skin: Although this is yet confirmed, many turmeric lovers insist that a turmeric mask gives them an instant glow after use.
If you're interested in learning more about Turmeric and its benefits, you can check out our article here.
Turmeric side effects
The FDA (The United States Food and Drug Administration) confirms that turmeric is generally safe for topical use. However, there are two things you have to keep in mind before adopting this ingredient into your skincare routine:
Potential allergies: Even if it is rare, it does happen. Therefore, we suggest conducting a patch test before trying turmeric in a broader area. The most common reaction would be a burning sensation or itchiness.
Skin turns sensitive to the sun: You can prevent this by applying sunscreen or other sun protection methods. A sunscreen with at least SPF 30 and sun hats can be your best allies.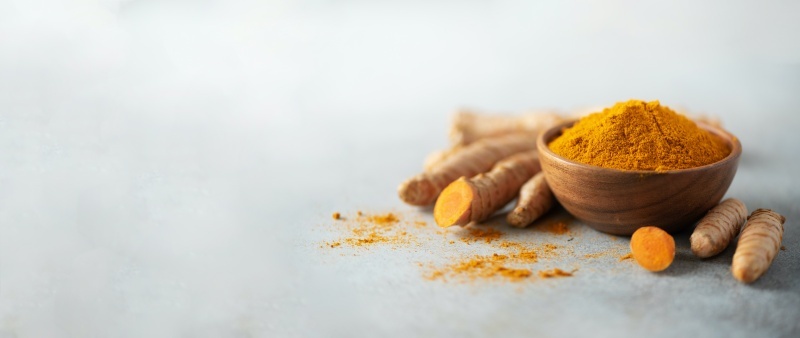 How To Use Turmeric For Dark Spots, Hyperpigmentation & Scars
Turmeric for skin can be used in various skincare steps. But for skin hyperpigmentation and scarring, you'll want to use products with optimal ingredients to rebuild your skin barrier.
Golden Tip: Any treatment for dark spots, melasma, and hyperpigmentation would require you to be vigilant with sun exposure. This is because ultraviolet rays are the reasons that trigger pigment-producing cells that can worsen your condition. This applies even if your regimen does not include turmeric.
Turmeric serum for dark spots and hyperpigmentation
Serums are a great way to target your skin concerns since they contain many active ingredients to repair your skin. If you're dealing with stubborn hyperpigmentation or dark spots, you can try using serums with turmeric to help improve your complexion over time.
For best results, we suggest applying at least twice daily (in the morning and night) and staying consistent. You can see visible results between a week and several months of usage depending on several factors.
Turmeric serum recommendations:
Turmeri Turmeric Vitamin C Serum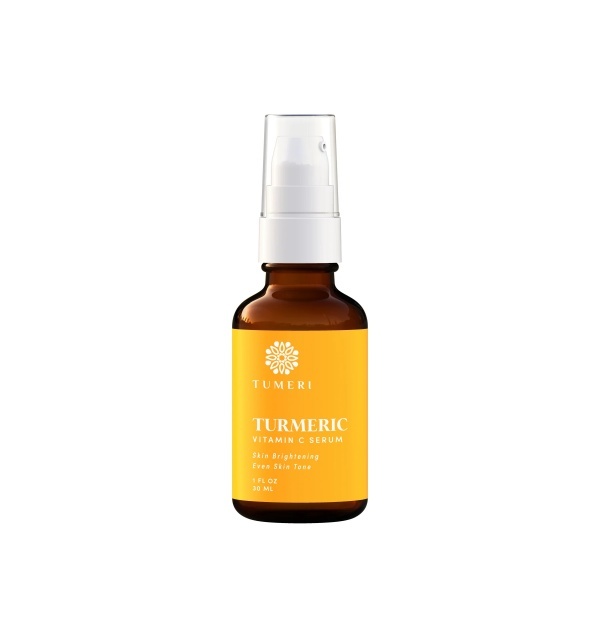 Size: 40 ml
Key Ingredients: L-Ascorbic Acid (Vitamin C), Turmeric Root Oil, Glycerin, Vitamin E, Botanical Hyaluronic Acid, Ferulic Acid
Highlights: Citrus-scented, non-greasy
Description:
This turmeric serum is a perfect contender for homemade remedies without the stain. For a fortified power against skin pigmentation, this serum pairs turmeric with the most potent form of vitamin C, L-ascorbic acid, for fast results. The powerful blend is balanced with skin-loving ingredients such as hyaluronic acid, glycerin, vitamin E, and ferulic acid, ensuring supple and hydrated skin.
Satisfied reviewers talk about noticeable differences in redness and dark spots within a short period. They also note the featherweight feel and the refreshing but not too overpowerful citrus fragrance.
Stellar Review (adjusted for readability):
"Great addition to skincare routine! The smell is amazing. It is refreshing and pleasant. It works well on clearing the skin and removes black spots and acne marks. Would definitely buy it again, as turmeric is great for the skin, and its ginger-like smell is refreshing. The pump dispenser adds value as well." – Jasmine P.
Herbivore Nova 15% Vitamin C + Turmeric Brightening Serum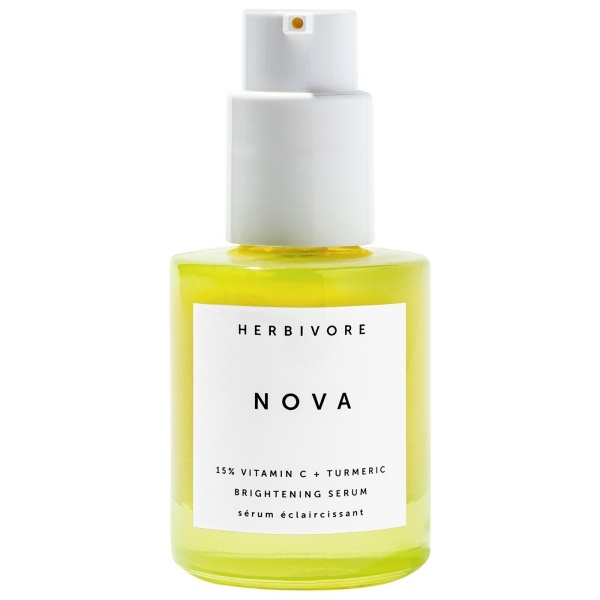 ** Use code BEAUTYWITHIN for 15% off your purchase!
Size: 1 oz/ 30 mL
Key ingredients: THD Vitamin C 15%, Turmeric, and Arbutin.
Highlights: natural turmeric scent (will fade fast), cream-like texture
Usage: Apply before SPF
Description:
This natural serum can work wonders for both dark spots and hyperpigmentation. It boasts potent ingredients against skin pigmentation: turmeric, THD vitamin C, and Arbutin. They also help make more collagen and fight off free radicals, which means your skin will be more elastic and protected from sun damage.
The serum resembles a lightweight cream that melts on your skin smoothly without greasiness. It just hydrates your skin and sinks in quickly. It smells like ginger because of its turmeric content. But even so, it leaves no stain, and the scent will quickly dissipate.
Stellar Review (adjusted for clarity):
"I have used this vitamin C serum for almost a year now, and I have seen great results. It definitely gives me the glowy look that I expect from a vitamin C product, but it is not irritating at all for my skin unlike many other (and more expensive) vitamin C products I have tried. Highly recommend!" – Alexkc93
Turmeric Mask For Hyperpigmentation
Hyperpigmentation is a skin condition frequently linked to inflammation, which turmeric can help lessen and deliver soothing effects to the skin. Using a therapeutic mask containing turmeric once a week is enough for you to reap all the benefits. Turmeric can help to calm inflamed skin and redness, but you'll also find other ingredients that can boost the effects for healthy-looking and glowing skin.
Typology Radiance Mask with Yellow Clay + Organic Turmeric
Size: 1.69 oz
Key ingredients: Turmeric, Argania Spinosa Kernel Oil, Yellow Clay, Mango Butter
Highlights: lightweight consistency
Description:
When you feel like your skin is worn out from the outside world (like too much sunlight, stress, and pollutants), you can give your skin a pick-me-up with a mask that exfoliates and restores the skin barrier simultaneously. This mask from Typology is loaded with antioxidants and actives like turmeric and yellow clay to help clear impurities and ease skin irritation.
Thanks to an herbal combination of turmeric with argan oil, yellow clay, and mango butter, the mask has all it takes to shield against free radicals and kill acne-causing bacteria. And if you're up for a relaxing treatment, this formula comes in a soft creamy consistency that glides on without tugging the skin.
Turmeric & Cranberry Seed Energizing Radiance Mask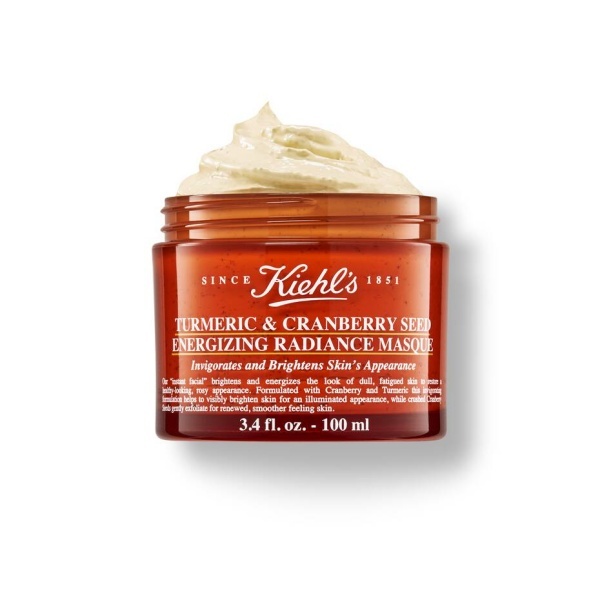 Size: 3.4 oz
Key ingredients: Turmeric, Cranberry
Highlights: Fragrance-free, perfect for oily skin
Description:
If you'd like a thicker consistency, this turmeric mask from Kiehl's might be just what you are looking for. The mask comes in a paste-like consistency with speckles of cranberry seeds for a gentle massage. It soaks oil from the skin wonderfully, sloughing away dead skin cells with turmeric, working on your dark spots, and reviving your exhausted complexion.
The mask has a slight mint smell reminiscent of an at-home spa treatment. The mask is great for oily skin types due to its absorbing feature, leaving your skin comfortably matte. While the formula can work for all skin types, it's possible for sensitive skin to experience some tingling, especially if you leave the mask longer than the recommended ten minutes.
D.I.Y. Turmeric Mask Recipe
You can consider consider creating this tried and tested D.I.Y Turmeric Mask at the comfort of your home (you'll also be saving your money too!) Here's the simple recipe:
Mix 2tbsp of turmeric powder, 4 tbsp honey, and 1 tbsp of milk (whole milk preferred) until a paste forms.
Spread evenly on a clean face.
Keep it on for 15-20 minutes and rinse the mask off with warm water.
Gently pat your face dry and apply your favorite face cream.
How To Use Turmeric For Pimples and Black Spots
Due to turmeric's anti-inflammatory properties, this ingredient can be a great option for calming down pimples and preventing post-acne scars.
Luckily, you can find turmeric in pretty much every step of your skincare routine, including spot treatments! Here's what we love.
Turmeric Spot Treatment
Cocokind Turmeric Tonic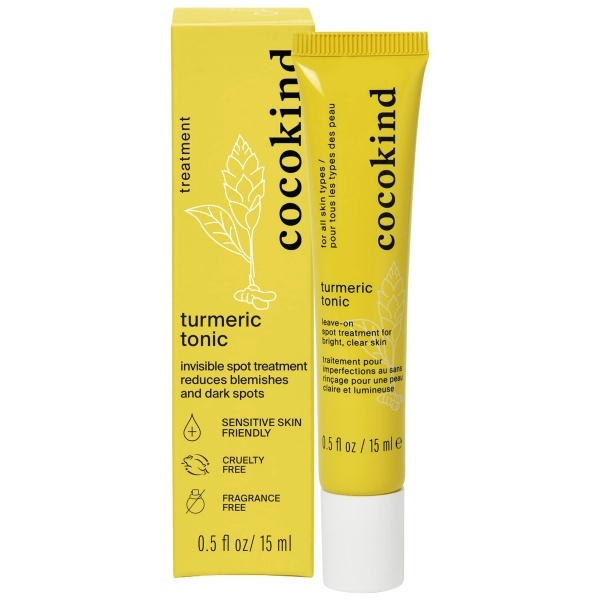 Size: 0.5 oz
Key ingredients: Turmeric, Tea Tree Oil, Broccoli Seed Oil, Witch Hazel Extract, Ginger Extract
Note: has a roller ball for even application
Description:
This spot treatment is awesome for zapping zits without overwhelming your skin. It combines turmeric with ginger, tea tree, and witch hazel, all of which can help calm your pimples, repair your skin barrier, and prevent oxidative stress.
Plus, turmeric alone is great for redness and dark spots. If you dread the idea of acne scars, this spot treatment can help prevent the emergence of post-acne pigmentation. This spot treatment is a true nurse for sensitive skin. Cocokind reserves a slight turmeric fragrance as they wanted the formula to stay as organic as possible. But don't worry about the scent if you are unfamiliar with it – it'll dissipate shortly after application.
Stellar Review (edited for clarity):
"This is one of my most used and, in my opinion, most versatile Cocokind products. I've been a lover of the turmeric tonic since its original formula. I have noticed drastic results when applied to a breakout spot. My family uses it on bug bites, questionable red marks, small scratches, and healing scars. Whereas we used to say, "put some breast milk on it," we now put some Cocokind on it." – Emily J
Turmeric Cleanser
Golden Hour Face Wash
Size: 4 oz
Key ingredients: Curcuma Longa (Turmeric) Root Extract, Curcuma Longa (Turmeric) Root Oil, Ananas Sativus (Pineapple) Fruit Juice, Sodium Cocoyl Apple Amino Acids
Highlights: water-based, for all skin-type
Description:
One of the best things you can do for acne-prone skin is to cleanse! This ultra-gentle face wash from Golden Hour will cleanse your pores and keep your breakouts in check with the help of pineapple, centella asiatica, and turmeric extracts.
The airy formula does everything: it relieves inflammation, reduces redness, supports collagen production, and quenches your skin. The face wash refreshes and gives you a satisfyingly soft and bouncy finish.
Turmeric Exfoliator
Exfoliating your skin two to three times a week is beneficial when battling breakouts. The goal is to eliminate dead skin cells and impurities that can clog pores and feed bacteria – two very scenarios that worsen our condition. With turmeric involved, you can reap further rewards from its antibacterial, antiseptic, and anti-inflammatory properties. In other words, the herb can soothe pain from active acne, promote faster healing, and minimize scarring tissues.
Cocokind Turmeric Illuminating Solution
Size: 3.72 oz
Key ingredients: Turmeric, 2% mandelic, 2% PHA, and 3% glycolic acid
Highlights: can use on both body and face, safe for daily use
Description:
This leave-on exfoliant is almost too good to be true. It can address many of your skin troubles at once, be it acne, blemishes, dark spots, sun spots, or hyperpigmentation. With such inviting benefits, you'll be surprised that it is perfectly gentle on the skin, thanks to a superb blend of 2% mandelic, 2% PHA, and 3% glycolic acid.
While this solution washes away oil and dirt from your skin, you can rely on turmeric to add glow and strengthen your skin barrier. You can use this exfoliant 2-3 times a week for best results.
Volition Turmeric Brightening Polish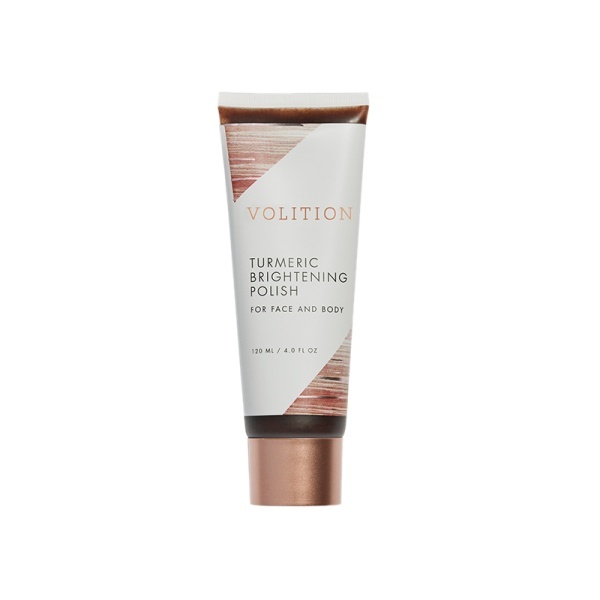 Size: 1.5 oz
Key ingredients: Turmeric extract, Olive Oil, Sesame Oil, Sandalwood Extract, Glycerin
Highlights: For all skin types, both face and body
Description:
Another gentle but fun exfoliant you could try is this Turmeric Brightening Polish. The scrub refreshes by clearing impurities, dead skin cells, and excess oil, with turmeric to add a host of skin-brightening effects to your skin.
It also features olive oil, sesame oil, and sandalwood extract for smooth conditioning and soothing properties.
Turmeric Oil
Turmeric-based facial oil can do more than strengthen the skin barrier and boost a supple complexion. It can also be an excellent remedy for skin damage such as burns, sun tan, insect bites, and bruises. For fast delivery of plump and soft skin, you can apply twice daily – once in the morning and once at night.
Yellow Beauty Stay Gold Elixir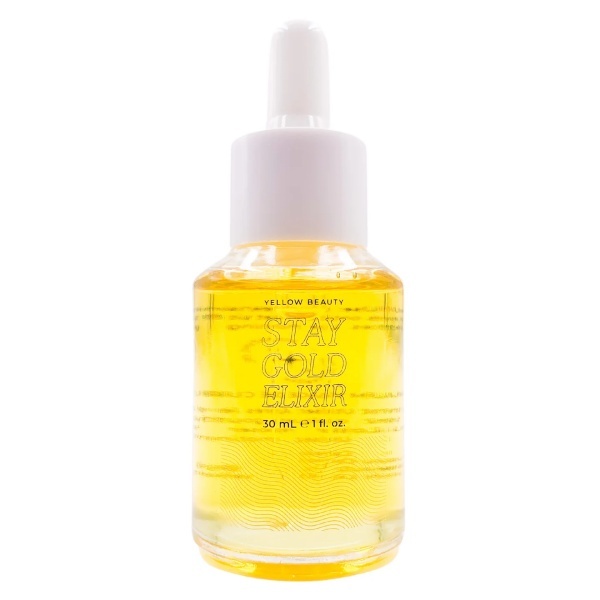 Size: 1 oz
Key ingredients: Turmeric Oil, Vitamin E, Jojoba Seed Oil, Lavender Oil, Pomegranate Seed Oil, Grapefruit Peel Oil
Highlights: works well with acne-prone skin
Description:
Turmeric, frankincense, lavender, and pomegranate are some of the most nutritious oils on the planet, and they are all in this facial oil. It's a hydrating elixir that soothes and plumps the skin. The ingredient package also aids in brightening, anti-aging, scar healing, and fading discoloration.
Happy users said it soothes their acne-prone dermis and balances oil production on the face. They also touted the lightweight formula, which blends on the skin smoothly with a nice therapeutic smell. You can even apply a few drops to your makeup to add on a natural glow to your complexion.
Stellar Review (edited for clarity):
"Would have never thought I would like an oil. Hydrates better than lotions and creams I've use, and feels so much lighter. Absorbs quickly and my skin feels fresh and smooth. I don't feel greasy or weighed down at all. Love this stuff!" – Karen M.
Sunday Riley C.E.O. GLOW Vitamin C And Turmeric Face Oil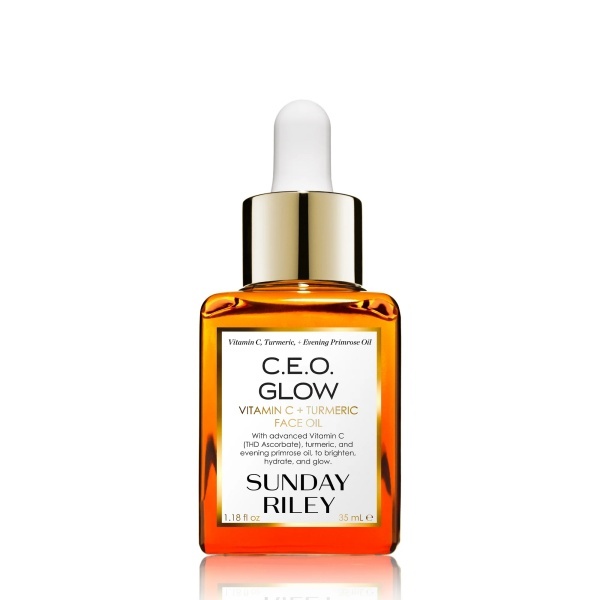 ** Use code BEAUTYWITHIN for 15% off your purchase!
Size: 1.18 oz
Key ingredients: turmeric, ginger, red raspberry, THD ascorbate, cranberry seed oil, evening primrose, pomegranate seed oil, jojoba oil
Highlights: Great for acne-prone skin
Description:
If you'd like to get to the bottom of your dark spots and hyperpigmentation with a premium solution (and you're willing to pay a pretty penny), you can give this face oil from Sunday Riley a try. Courtesy of a powerful mixture of top-notch herbals, it can brighten up any dullness or fatigue in a short period and leave radiant and glowing skin in its wake.
Moreover, the Vitamin C and turmeric duo also address virtually any skin pigmentation issues, evening out fine lines and wrinkles while fending against acne. You can expect a plump, dewy, and hydrated complexion thanks to powerhouse oils like jojoba, cranberry seed, and evening primrose oils.
Turmeric Lotion
KORA Organics Turmeric Glow Moisturizer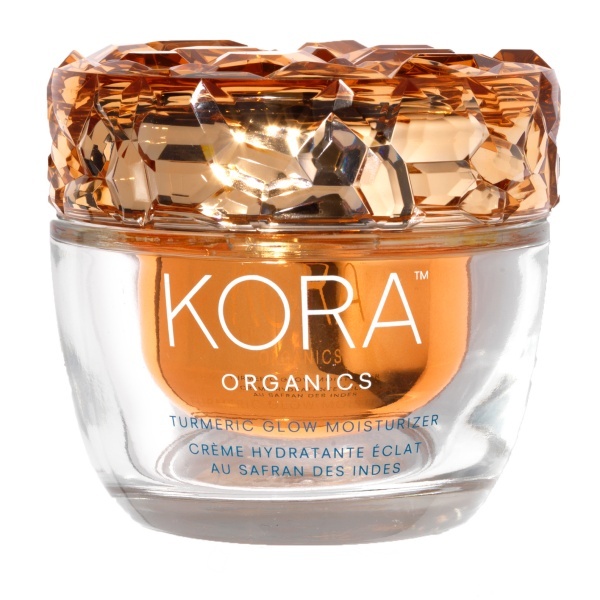 ** Use code BEAUTYWITHIN10 for 10% off your purchase!
Size: 1.69 oz
Key ingredients: Turmeric, Licorice, Shea Butter, Desert Date, Rosehip, Seabuckthorn, Avocado and Maracuja
Highlights: perfect for dry and aging skin
Description:
If you need an extra helping hand to address dark spots and acne marks, this moisturizer contains everything you need for happy skin. Boasting licorice, a blend of nourishing herbal oils, and shea butter alongside turmeric, this treatment softens your skin and restores elasticity while promoting the spot-free complexion you deserve.
Since this lotion contains AHAs – another valuable ingredient for dark spots and hyperpigmentation – you should take extra precautions with direct sunlight while using the product. While the formula is a gentleman with the skin, you should consult your derm if you have sensitive skin or rosacea and melasma.
Can't get enough of Beauty Within?
Take advantage of our exclusive discount codes to your favorite brands: https://shopmyshelf.us/collections/51665
Get your weekly dose of updates & inspiration with our newsletter: https://bwth.in/newsletter
Shop all of our curated faves at: https://bwth.in/shop
Subscribe to our YouTube channel for more information and product recommendations: https://bwth.in/subscribe