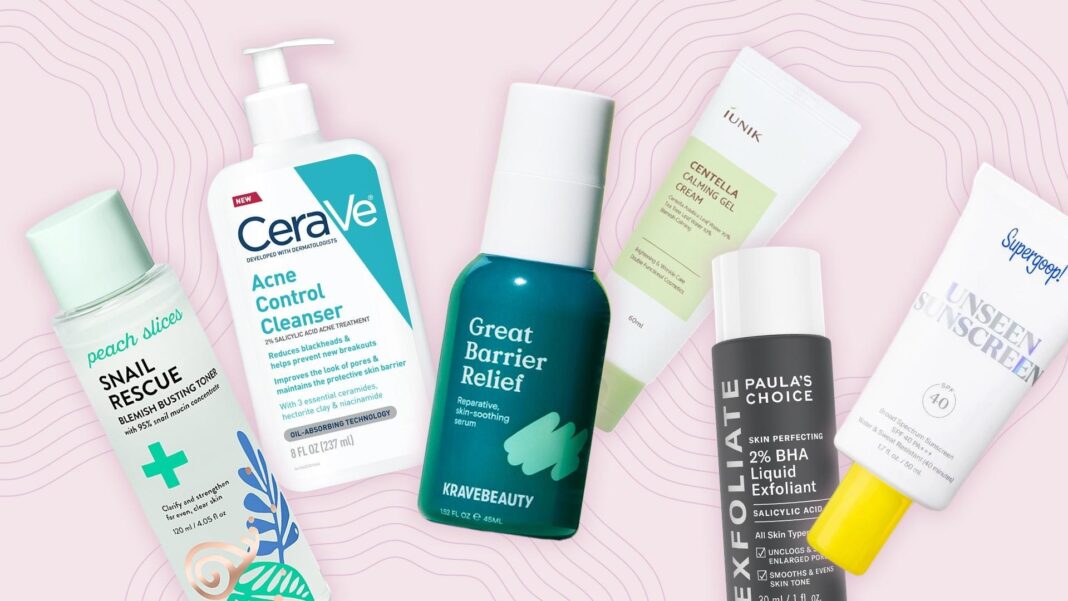 As a skin therapist, I've seen my fair share of skin types and conditions. With the wide array of products on the market, finding the perfect products for you can be overwhelming. My job allows me to help create custom routines that make a person's skin happy and healthy. While every skincare routine is unique, there are a few products I find myself recommending time and time again. Today, I'll go through my go-to Esthetician-approved skincare products that my clients and I adore!
Esthetician-approved Skincare: Cleansers
CeraVe Acne Control Cleanser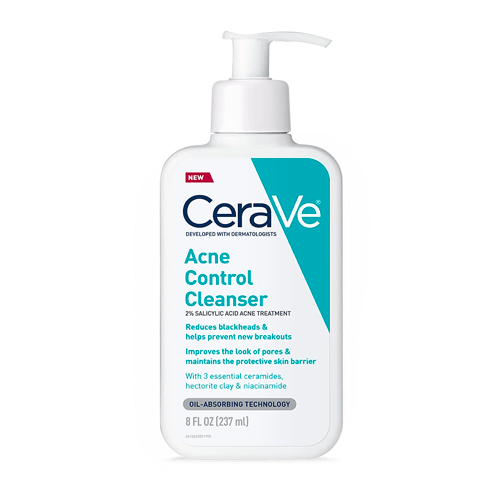 If you're prone to breakouts, congestion, or blackheads (or all of the above!), this cleanser is right up your alley. CeraVe's newest addition to their acne line has quickly become my go-to acne-fighting cleanser. This bad boy delivers 2% salicylic acid in a surprisingly gentle gel formula. Also, with oil-absorbing technology powered by hectorite clay, this cleanser leaves oily skin feeling refreshed yet not overly stripped. As an acne sufferer, I found this cleanser to be a pleasant experience, and it feels great on the skin while packing a powerful punch. Supported by the patented three essential ceramides and niacinamide, I find this cleanser is the gift that keeps on giving. All my clients that have tried this have enjoyed it. With a price tag ranging from $13 to $16, I say it's worth a try!
Dermalogica Intensive Moisture Cleanser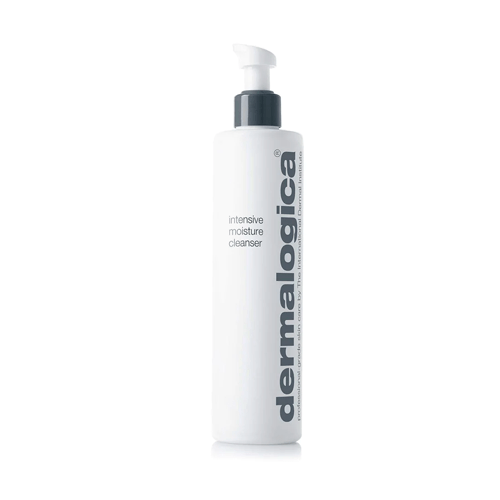 If you're suffering from chronically dry skin, you'll be surprised to find how big a difference a creamy cleanser can make. Dermalogica's Intensive Moisture Cleanser has been my devoted cream cleanser for about a year, and it's such a rewarding experience whenever I watch my client's skin change from severe dryness and flaking to loving their soft and supple skin. This cleanser contains a BioReplenish Complex composed of coconut oil and murumuru seed butter help to nourish the lipid barrier and improve skin resilience. I'm amazed at how nourishing, and effective this cleanser is – that's why I will keep coming back for more!
Esthetician-approved Skincare: Toners
Peach Slices Snail Mucin Blemish Busting Toner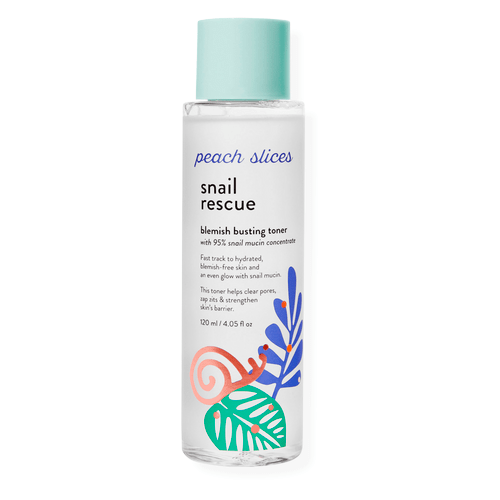 A perfect toner for all skin types, the Snail Mucin Blemish Bust toner is excellent for simultaneously hydrating dry skin and soothing my breakouts. I also love that this toner is fungal acne safe! I gave this product a try when my local Ulta sold out of the COSRX Advanced Snail 96 Mucin Power Essence, and I was surprised at how different yet similar they were. While both these products have the same amount of snail mucin, the Peach Slices formula has a thinner consistency that makes application easier. With the added benefits of Centella Asiatica and hyaluronic acid, I can feel assured that my clients will enjoy the experience, improve their skin's hydration, and reduce inflammation.
Paula's Choice 2% BHA Liquid Exfoliant & Krave Beauty Kale-Lalu-yAHA Gentle AHA Exfoliator
This cult classic 2% BHA Liquid Exfoliant was my first true experience with chemical exfoliation. I remember seeing my acne reduced and the redness disappearing practically overnight! I shift between recommending this and the Kale-Lalu-yAHA from Krave Beauty depending on my client's experiences. Krave Beauty may be great for beginners, but I can count on Paula's Choice for great results. Anyone suffering from acne should give this product a whirl as long as you're careful not to overdo it.
Esthetician-approved Skincare: Serums/Treatments
Krave Beauty Great Barrier Relief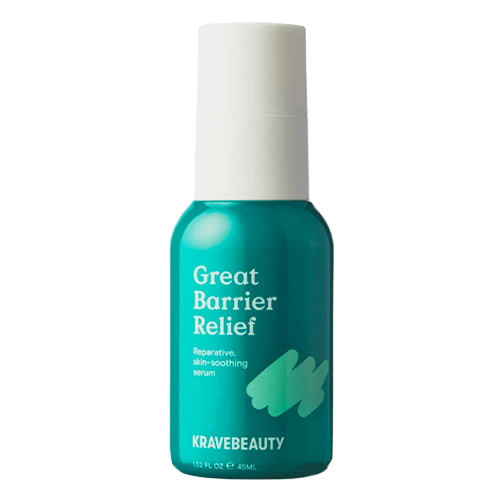 Krave Beauty's Great Barrier Relief is the holy grail of my holy grails and my most recommended product for my clients. That's because I can always rely on GBR to save the day whenever I encounter signs of a compromised skin barrier (like dryness, flakiness, and redness). This lightweight yet nourishing formula combines tamanu oil, safflower and rosehip oil, niacinamide, and ceramides to deliver some serious TLC in your barrier's time of need. Clients often tell me how much better their skin looks and feels after trying this product for the first time. This product is a must-have for the medicine cabinet, and I can always count on this in a pinch! The last time I checked, I was already ordering my fifth bottle – I can't get enough of this stuff!
Naturium Vitamin C Complex Serum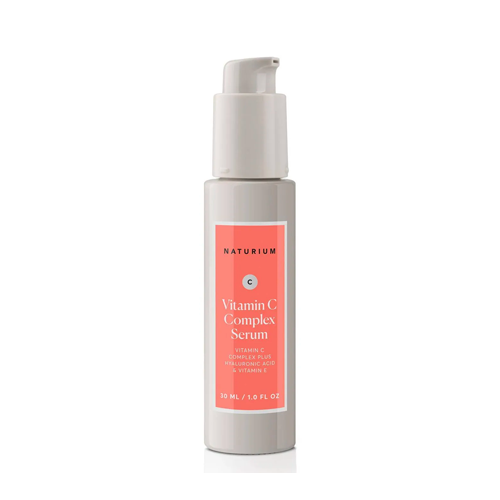 Naturium's Vitamin C Complex is the perfect Vitamin C product for beginners! This serum combines the most effective forms of Vitamin C, including L-Ascorbic Acid and Kakadu plum, and hyaluronic acid and vitamin to provide an effective treatment. I gave this product a try because of its innovative technology and was pleasantly surprised by how well it performed. Since this non-greasy serum is hydrating and jam-packed with antioxidants, I recommend this to my clients for various reasons. It also helps that this serum is reasonably priced and available for purchase at Target!
Esthetician-approved Skincare: Moisturizers
CeraVe Moisturizing Cream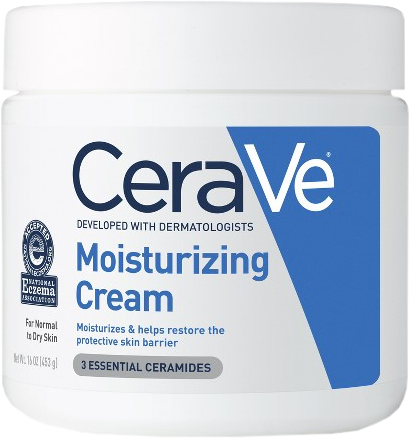 The ideal moisturizer: CeraVe Moisturizing Cream. This brand staple took the internet by storm and showed that moisturizers could be simple, effective, and affordable. This non-comedogenic formula is rich, non-greasy, and fast absorbing and does a wonderful job of promoting healthy and hydrated skin, thanks to the encapsulated ceramide from the MVE technology. You can find this product at just about any drugstore, which is why this product is such an easy pick when recommending a good moisturizer.
iUNIK Centella Calming Gel Cream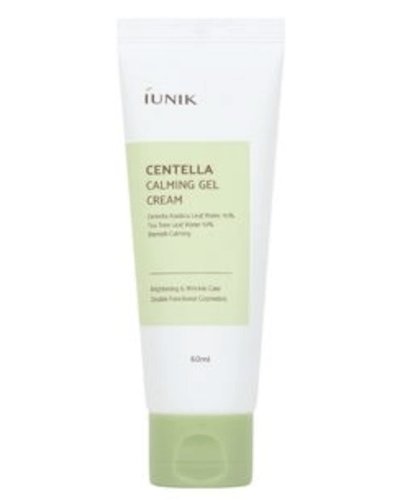 ** You can use code "SHOPBW" for 10% off!
Once upon a time, I believed moisturizers were the source of my breakouts. I remember how challenging it was to start using a moisturizer because I used to think that if it felt heavy on my skin, it felt pore-clogging to me. Enter gel moisturizers – fantastic products for providing lightweight hydration to oily and congested skin! While there are many gel creams out there, this Centella Calming Gel Cream remains my favorite gel moisturizer to date. Made of 72% Centella Asiatica leaf water and 10% tea tree leaf water, the gel cream is a superhero for calming stressed skin and soothing blemishes. It's also sold at an affordable price, so I know my clients love giving this cream a try! I know I can always rely on this tried and true gel moisturizer for every occasion!
Esthetician-approved Skincare: Sunscreens
Supergoop! Unseen Sunscreen SPF 40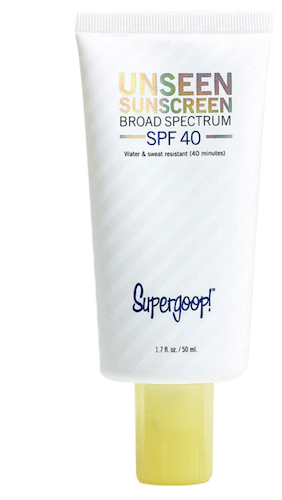 This is always my first choice when referring sunscreen to someone for the first time. This lightweight chemical formula does a fantastic job at negating the classic stigmas of old fashion sunscreen. Heavy? Nope. Greasy? Not at all. White cast? None. Smelly? No way! Often compared to a primer, this clear formula absorbs into the skin and becomes invisible (dare I say, unseen?). Clients who tried this tell me repeatedly how much they love it. If this product can get someone hooked on sun protection, I call that a win!
Coola Mineral Sun Silk Crème SPF 30 & Dermalogica Invisible Physical Defense SPF 30
As someone sensitive to chemical sunscreen filters, I've been hunting for the perfect mineral sunscreen for ages. After trying this product, my search might be over! My original holy grail, the Dermalogica Invisible Physical Defense SPF 30, has been a staple in my routine for a long time. But once I tried the Mineral Sun Silk Crème SPF 30, it was like a paradigm shift! This lightweight, oil-free formula utilizes non-nano zinc oxide as its active ingredient and blends seamlessly into the skin with a minimal white cast. Rather than a greasy shine, this product leaves a subtle, healthy glow. After showcasing this product to a few people, they were all surprised at how subtle it was with no white cast or scent. The Mineral Sun Silk Crème has solidified its place as my top mineral sunscreen recommendation!
Check out all our products in our Shop My Shelf Collection:
Want to see more discount codes? Check out the link: https://shopmyshelf.us/collections/51665
Sign up for our free online newsletter: https://bwth.in/newsletter
Shop all of our curated faves at: https://bwth.in/shop
Subscribe to our YouTube Channel for more information and product recommendations: https://bwth.in/subscribe