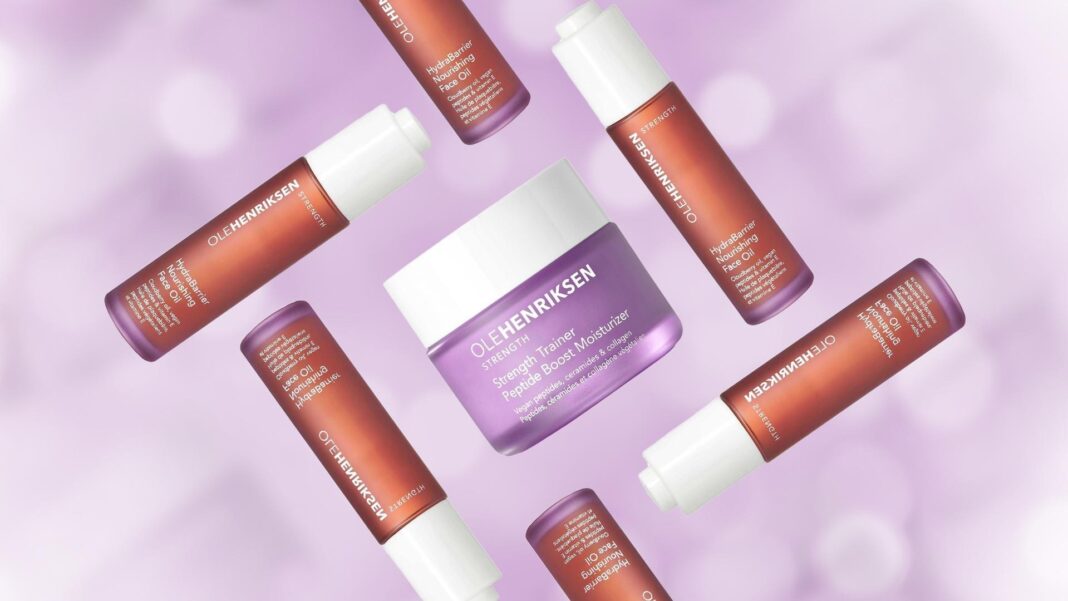 If your skin is feeling extra dry this winter, or you're in the mood for trying out nourishing products, Ole Henriksen is a brand to dip your toes (face?) in! We already know their Strength Trainer Peptide Boost Moisturizer is a crowd fave over the past year. It's also Beauty Within host Rowena's go-to and beloved pick for 2022! What's even more exciting is that the brand recently launched a new face oil! Finally, an Ole Henriksen face oil to pair with the moisturizer! For this honest review, I decided to use the Ole Henriksen Moisture Barrier Duo to see if they're worth the hype for my sensitive and dry skin!
A quick disclaimer: the brand gifted me the products, and I am not obligated to write a review. But I decided to go ahead and write one anyway to share the love!
Hydrabarrier Nourishing Face Oil: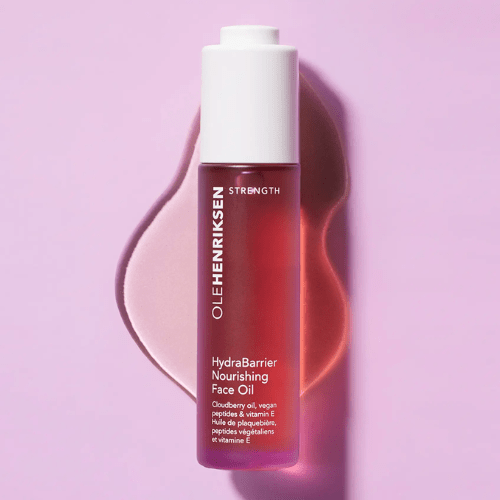 What is it?
Ole Henriksen's latest product is a face oil that helps to lock in hydration all day while also improving the texture and elasticity of your skin. It's a rich face oil that absorbs quickly without leaving behind a sticky, heavy, or greasy feel. The oil is said to reduce fine lines and wrinkles, deliver instant hydration, and smooth the skin. Expect your skin to feel nourished, glowing, and oh-so-soft!
Key Ingredients: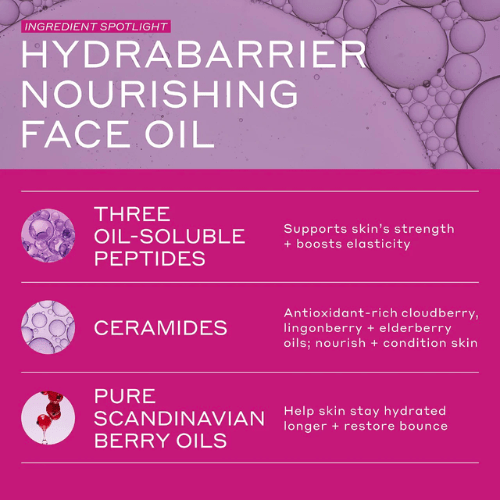 Peptides support elasticity and strengthen the skin.
Berry Oils for intense hydration and softer skin.
Ceramides deeply nourish the skin.
Editor's Experience
As someone with dry and combination skin, I appreciate a nourishing face oil like this! The texture is thick and rich, but it sinks nicely and leaves behind smooth, hydrated, and firm-looking skin when massaged! I noticed that whenever I use this face oil as the last step of my night routine to seal everything in, I wake up with beautiful, plump, and glowy skin in the morning. Seeing how much facial oil can make a difference to the face is mind-blowing! Best of all, the oil didn't make my sensitive skin react or break out into a rash!
Good to Know
Since this product uses essential ingredients to help strengthen our skin barrier, this facial oil can be a great addition, especially when our skin remains dry, irritated, and flaky after moisturizing. This facial oil has a thick and rich consistency, but it's non-comedogenic and suitable for combination, sensitive, and oily skin types to use as well!
Strength Trainer Peptide Boost Moisturizer:
What is it?
This ultra-whipped cream moisturizer leaves even the driest skin types parched, soothed, and deeply nourished! The buttery smooth balm-to-gel texture glides on, improves the look of fine lines and wrinkles, and helps keep the skin hydrated all day! Best of all, it's vegan and perfect for all skin types, including sensitive and blemish-prone skin! This cream has a light and refreshing citrus fragrance, and the faint pink tint comes from the natural ingredients formulated into the product!
Key Ingredients: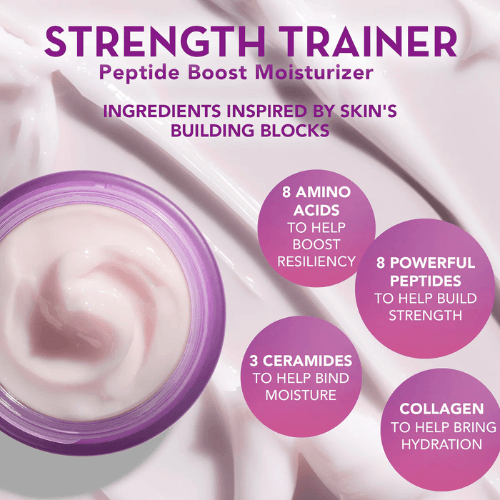 Amino Acids support skin elasticity.
Peptides strengthen and nourish the skin.
Ceramides hydrate and heal the skin barrier.
Editor's Experience
The moisturizer's been out for some time, but it still continues to maintain a large following – Rowena included! As someone with very sensitive, reactive, and dry skin, I agree with the sentiment! I love how the moisturizer's texture is unique and reminds me of a luxurious cleansing balm. At first, the cream feels waxy when scooped from the jar, but as I massage it into my skin, I can feel it melting seamlessly without heaviness or greasiness! My skin immediately feels bouncy, soft, and well-nourished!
Good to Know
One aspect of the moisturizer that I have yet to be able to verify is its ability to smooth signs of aging, such as fine lines and wrinkles – since I didn't reach the age to see these concerns! But due to the ingredients making up this cream, like ceramides, collagen, and peptides, I can see why it can help address this skin concern!
Overall Thoughts Using the Ole Henriksen Moisture Barrier Duo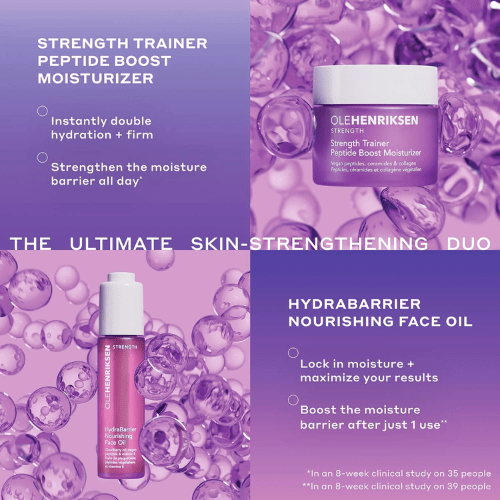 The Ole Henriksen Moisture Barrier Duo is well worth the investment! I love that both products work very well for all skin types and their needs. For instance, normal and dry skin types can benefit from layering the moisturizer and oil together for added hydration and comfort. On the other hand, combination and oily skin can use the moisturizer and the oil in separate routines and still reap the benefits of hydrated and well-nourished skin!
The only downside is the hefty price tag (although discounted when you buy them both in a bundle), which can total $100. But if I choose between the two, I'd select the face oil. The quality and user experience of the facial oil left me mesmerized; I love how pillowy the oil feels and leaves my skin noticeably plumper and healthier immediately after application!
Overall, I praise Ole Henriksen's products, and I'd highly recommend you give them a try if you need extra nourishment in your routine!
Want to see more discount codes? Check out the link: https://shopmyshelf.us/collections/51665
Sign up for our free online newsletter: https://bwth.in/newsletter
Shop all of our curated faves at: https://bwth.in/shop
Subscribe to our YouTube Channel for more information and product recommendations: https://bwth.in/subscribe