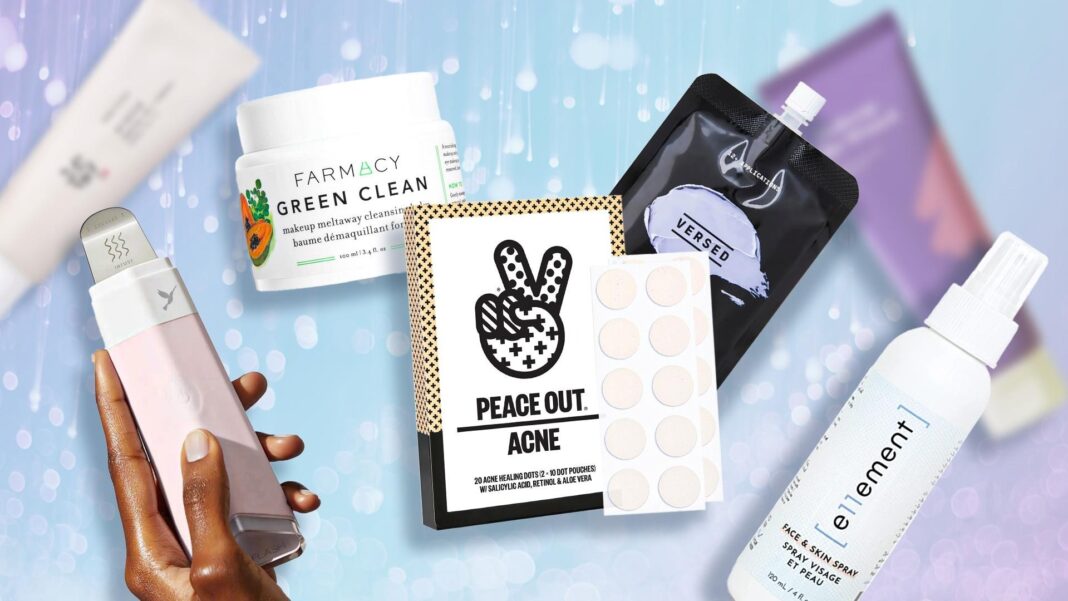 As someone who recently went through a rough period of inflamed cystic acne, clogged pores, textured skin, and redness, I understand the mental struggles, frustration, and desperation of wanting one product to make all our skin concerns go away. But the truth is, there isn't any product that can magically remove all the blemishes like a magic eraser. And contrary to popular belief, your skin won't benefit from slathering on chemical exfoliant after chemical exfoliant (shocking, right?). If this sounds like you and you've exhausted your skin, why not consider taking your current routine for oily and acne skin and do a reset?
Editor's Tips & Routine for Oily and Acne Skin:
Cleanser & Tools
If you have oily and acne-prone skin, cleansing is one of the best ways to help give it a reset! By thoroughly cleansing, you can help prevent excess sebum and clogged pores from occurring, which can help minimize the chances of breakouts and acne.
Best cleansers: Gentle gel or foam
How do you cleanse?
The method you use to cleanse your skin can make a huge difference! Here's a breakdown:
Make sure your hands are clean before cleansing your face!
For gel type cleansers, cleansing balms or oils: work your cleanser directly onto dry skin and massage for at least a minute.
If you're using a foam cleanser, work into a lather with your palms before massaging onto your skin for at least a minute.
Pro tip: When working the cleanser into your skin, pay extra attention to areas where you're most prone to oiliness, breakouts, or clogged pores. This includes the crevices of your nose, chin, cheeks, jawline, and forehead.
Product Recommendations:
Makeup Users:
Cleansing: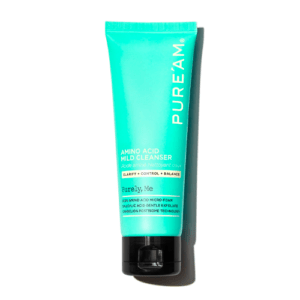 Pure'Am Amino Acid Mild Cleanser
What about cleansing or extracting tools?
While tools aren't needed, they can be convenient in giving cleansing a boost! Cleansing devices like FOREO are safe enough to give your skin a deep cleanse without being abrasive or irritating your skin barrier. For extracting tools, you can opt for gentle extractions with Dermaflash's Dermapore to help unclog pores in hard-to-reach areas without extra force or excess pressure. Remember that these tools may not be beneficial when experiencing active pimples.
Product Recommendations:
Wash Off Masks
If you have oily and acne-prone skin and don't have a wash-off mask in your skincare arsenal, better invest in one, pronto!
What are Wash Off Masks?
Wash-off masks can benefit your skin since they contain the right ingredients to help you address clogged pores, excess sebum production, acne, and uneven skin texture and tone – in one go! It's also a great way to introduce your stronger chemical exfoliant ingredients without worrying about irritating your skin. Here's a quick breakdown:
For clay masks, you can look for bentonite, green, or kaolin clays to soak up excess oils and sebum.
For exfoliating masks, you can look for exfoliants like salicylic acid, glycolic acid, and lactic acid to calm down skin inflammation, give a helping hand in killing acne-causing bacteria, unclog congested pores, and slough away dead skin cell build-up and texture.
Best masks: Wash-off exfoliants or clay masks
When should you mask?
Most wash-off masks suggest using at least once a week, but you can use more often depending on your skin's condition.
For extra oily skin, you can use it 2-3 times a week to help calm your sebum levels and smooth out uneven texture.
For acne-prone skin, you can use a clay or exfoliant mask as spot treatment over your pimples when needed.
Product Recommendations:
Pimple Patches
Let's not be sleeping on the pimple patches! These tiny-but-mighty bandages are perfect for speeding up recovery and saving your skin from further damage. Yes, that includes anyone who tends to pick at or pop their pimple. Since there are different kinds of patches for every stage, you can select the best type for your concern!
Types of pimple patches you can expect to find:
Hydrocolloids: these are original and most basic forms of the patches you'll see. They act as a bandaid to prevent infection, speed up healing, and protect the skin. You can find hydrocolloids in their purest form or infused with ingredients aimed to calm inflammation and kill acne causing bacteria.
Micro Dart patches: these may sound scary (not to mention they're more costly!), but they can be practical tools for frequent breakouts! That's because the micro darts can deliver active ingredients into your blind or cystic pimple and improve their look as soon as possible! And in case you're wondering, nope, they don't hurt one bit!
Best pimple patches: All types (depending on pimple stage)
When and how do you apply them?
Pimple patches work best on zits that come to a head (white pus ready to pop!) or after you safely extract it. If you have any blind pimples (pimples that are skin colored), wait a couple more days or try a warm compress. If all else fails, try using a micro dart patch to encourage the pimple to head!
For post-pimple marks or hyperpigmentation, you can try using a micro dart patch with skin-brightening ingredients infused into them. These ingredients range from niacinamide to tranexamic acid, so be sure to look at the brand!
What's the best way to apply a pimple patch?
You can apply the pimple patch on clean and dry skin – preferably right after cleansing! If you apply it as the last step of your routine, you'll most likely find it stuck to your pillow by the morning – speaking from experience!
Product Recommendations:
Toner
This step may not be necessary, but it can be a lifesaver when adding to a routine for oily and acne skin. Since our post-cleansing step involved an exfoliant mask, you can use the toner step to deliver soothing, calming, and hydrating ingredients back to your skin. This can help balance the skin's moisture and oil levels, reduce potential irritation, and calm inflamed and compromised skin.
Best toners: Soothing, Calming & Hydrating
Ingredients to look for:
Oily skin: Witch hazel (alcohol-free), green tea, willow bark, niacinamide, hyaluronic acid/panthenol, sodium PCA
Acne-Prone & Sensitive Skin: centella asiatica, mugwort, hypochlorous acid, snail mucin, tea tree, allantoin, thermal spring water, calendula
Product Recommendations:
Serum
The serum step is the best way to add extra nutrients to your skin! Serums typically contain more potent active ingredients than your toner and moisturizer steps, making them an excellent option for giving your skin extra love!
Best serums: Extra nourishing or tackles concerns (active acne, acne marks and hyperpigmentation)
Ingredients to look for:
Oily skin: niacinamide + zinc, green tea
Acne-Prone & Sensitive Skin: azelaic acid, tamanu oil, salicylic acid, lactic acid
Post-Acne Marks & Hyperpigmentation: kojic acid, alpha arbutin, tranexamic acid
Product Recommendations:
Moisturizer
Now that you fed your skin with all the essential nutrients, top it with a nourishing moisturizer to seal the goodness in! At this stage, consider selecting either a gel or water-based cream for humid and hot weather or a nourishing but not suffocating barrier cream for colder winter weather. This way, your skin can take all ingredients you layered before and allow it to work its magic throughout the day and night!
Best moisturizers: Water or Gel creams (during the summer) and Barrier Creams (during the winter)
Product Recommendations:
Sunscreen
Did you know sunscreens can do more than just protect your skin against UV damage? This step can also act as a barrier to keep away environmental pollutants that can also irritate and further worsen your skin. For acne prone skin, prolonged sun-exposure can worsen the look of your breakouts and make it difficult to naturally fade over time.
What sunscreen should I use?
The perfect sunscreen ultimately depends on you! Since you'll be applying sunscreen every day, you'll want to choose one that feels great applying and leaves you with a comfortable finish. Just make sure your sunscreen contains at least SPF 30 and broad spectrum coverage!
Best sunscreen: gentle formulations with a satin-matte finish or mineral based sunscreen
Need more info? Here's a breakdown:
Chemical Sunscreen
Contains: chemical filters such as Tinosorb, Homosalate, Uvinul, etc.
Benefits: Chemical sunscreens blend well with all skin tones without leaving a white cast and layers nicely with makeup.
Downsides: Depending on the sunscreen, some people may experience stinging and tearing up if applied close to the eyes. Chemical sunscreens are also not recommended for pregnant or breastfeeding women (see physical sunscreens).
Chemical SPF Product Recommendations:
Physical Sunscreen
Contains: Zinc Oxide and Titanium Dioxide filters to provide UV protection.
Benefits: Physical sunscreens are gentle and are great options for anyone with sensitive or acne-prone skin. If you're experiencing skin sensitivity, breakouts, or irritation, physical sunscreens won't exacerbate these concerns.
Downsides: Due to the filters, there's the possibility of seeing a thicker or clumpy texture and a white cast after application (which may not benefit dark skin tones). You may also require extra time to work and blend the sunscreen into your skin.
Physical SPF Product Recommendations:
See all products in our Shop My Shelf collection: https://shopmy.us/collections/public/108731
Want to see more Beauty Within exclusive discount codes? Check out the link: https://shopmyshelf.us/collections/51665
Sign up for our free online newsletter: https://bwth.in/newsletter
Shop all of our curated faves at: https://bwth.in/shop
Subscribe to our YouTube Channel for more information and product recommendations: https://bwth.in/subscribe