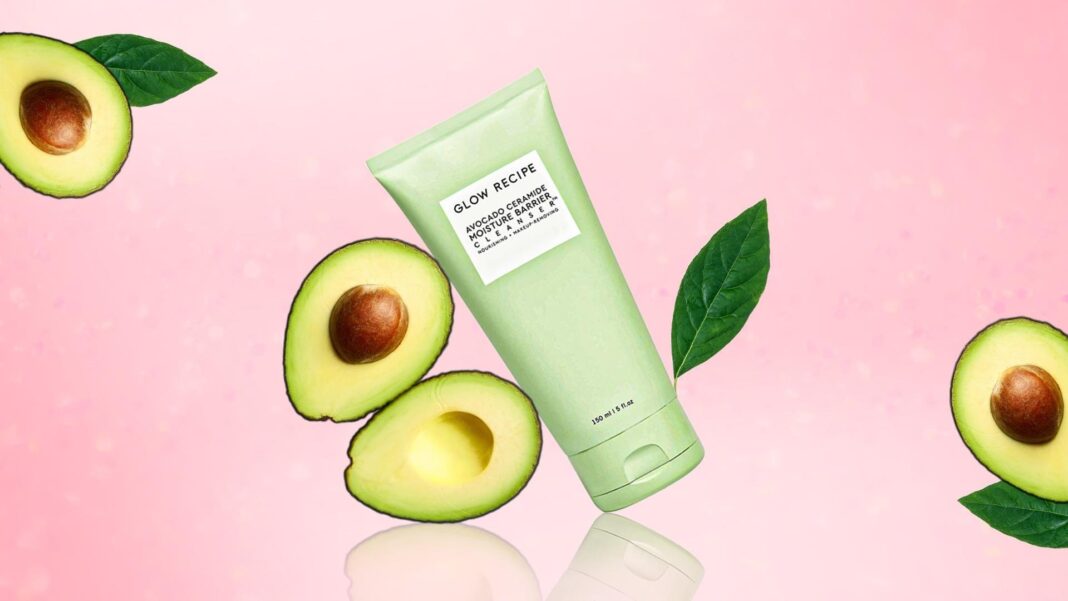 One of the most critical steps in skin care is cleansing because it helps deep cleanse the skin of excess dirt, oils, makeup, and other impurities you've encountered throughout the day. So, when Glow Recipe announced its newest launch, the Avocado Ceramide Moisture Barrier Cleanser, I felt excited hearing about its innovative formula and the claims to remove everyday makeup without needing an oil cleanser. Little did I know that my experience with the cleanser quickly became a different story; let's say this product isn't what I thought it would be!
A quick disclaimer: the brand gifted me the product, and I am under no obligation to write a review. But I decided to go ahead and write one anyway!
About The Cleanser: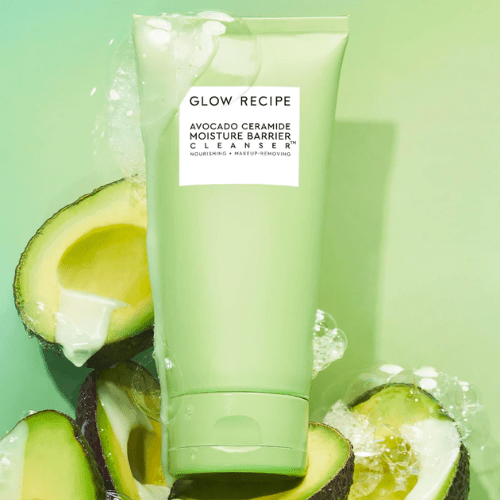 Because we tend to experience more dry and irritated skin during the colder months, it's important to use soothing and hydrating products to strengthen our skin and keep it healthy! Knowing that Glow Recipe's Avocado & Ceramide line contains formulas that don't compromise our skin barrier, I can expect the same for this cleanser, especially this time of year! This cream-to-foam cleanser claims to gently remove everyday makeup, hydrate the skin, soothe redness, and fortify the skin's moisture barrier! It can also work well for all skin types because it's non-stripping and moisturizing.
Key Ingredients: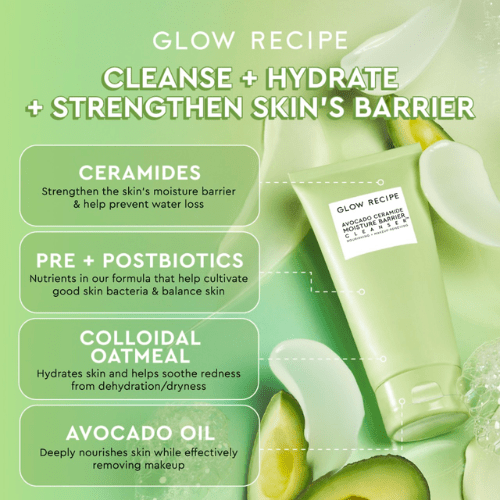 Ceramides help reduce redness and hydrate the skin.
Prebiotics & Postbiotics help to strengthen the skin barrier.
Avocado Oil deeply nourishes the skin while removing makeup.
An Interesting Experience
I want to preface this review by saying that I tried three separate Glow Recipe Avocado Cleansers. I purchased one with my money; the other is a travel-size version included in the Fruit Babies Bestsellers Kit (gifted to me by the brand) and one from the official PR box (which arrived later).
Why try three cleansers? Because something was interesting about all three: they weren't the same.
I'm usually not a makeup wearer, but I do enjoy using cleansers that can remove my sunscreen. I use SPF every day, and my usual routine requires me to double-cleanse to remove all traces of sunscreen off my face. If I can use a cleanser to remove my SPF in one step successfully, I'm automatically sold!
When I first popped the cleanser open (the one I purchased), it was the morning double cleansing routine to remove dirt and dust off my face. After rinsing my face with water, I was surprised by how my skin felt very hydrated, to the extent that it felt like an oily film was remaining on it. I found this very odd because while it did give me a nice cleanse, the greasiness wasn't sitting right with me (and my skin)!
That evening, I became curious about the other cleansers I received. I got around to opening up the travel-sized version from the Fruit Babies Bestseller Kit and followed the instructions to a tee! But even with the instructions, the post-cleanse was still as uncomfortable as the first time – my skin felt too greasy! To add to the greasiness, I noticed the cleanser did little to remove my sunscreen. At most, it seemed as if it was pushing around the sunscreen residue across my face!
About Makeup Removal…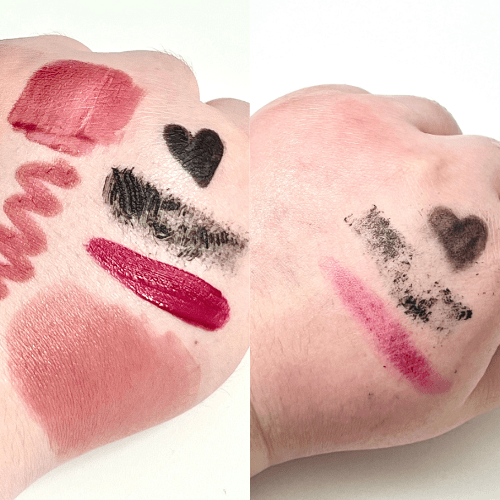 Besides the greasiness, I couldn't help but notice the makeup removing ability for the two cleansers.
According to the website, the Glow Recipe Avocado Cleanser is gentle but powerful enough to remove traces of makeup in one step. But, for some reason, the self-purchased and travel-sized cleansers didn't show promise when it came to removing my non-waterproof makeup. That is until I tried the third bottle…
Textural Inconsistencies
The day after I opened the first two items, I received Glow Recipe's official PR box for the cleanser. Now that I finally received the product directly from the brand, I opened the cleanser immediately to test it out – only to realize how different the consistency was!
I had to do a double take; normally this cleanser should have a milky lotion consistency that lathers into a soft foam. The texture of the milky lotion when dispensed should appear slightly mousse-like and retain some shape.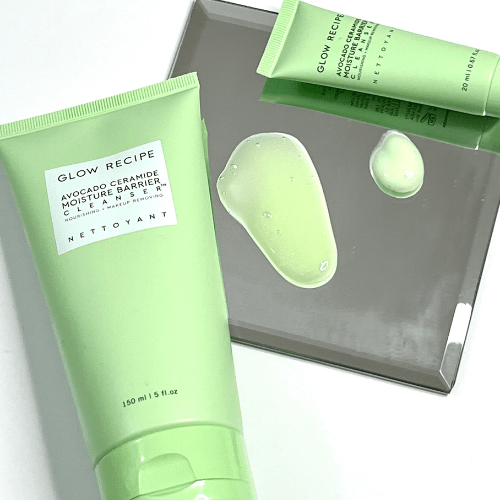 Instead of the usual texture I expected (especially since the previous two versions had the right consistency), this cleanser was VERY runny. As soon as I popped the cleanser open, it dripped out everywhere! What made it even more surprising is how this cleanser showed better results in removing makeup. But there was one caveat: I had to use extra pressure to massage the cleanser around my eyes and nose to melt all my makeup. Of course, this isn't what we should do to our skin when cleansing; but I wanted this cleanser to work!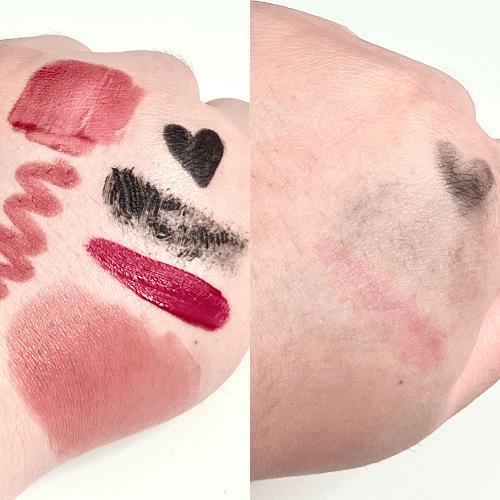 Is there a Formula Mishap?
I wanted to like this product because I genuinely enjoy most of Glow Recipe's launches. But my experiences with this new cleanser had me so taken aback that I had to see what other users on social media had to say (in addition to reaching out to Glow Recipe as well). Fortunately, I'm not the only one who has experienced this. Users were talking about the runny consistency or how the cleanser didn't transform into the soft foam as promised. These comments weren't limited to the Glow Recipe Instagram page; there were even reviews on Sephora discussing these inconsistencies!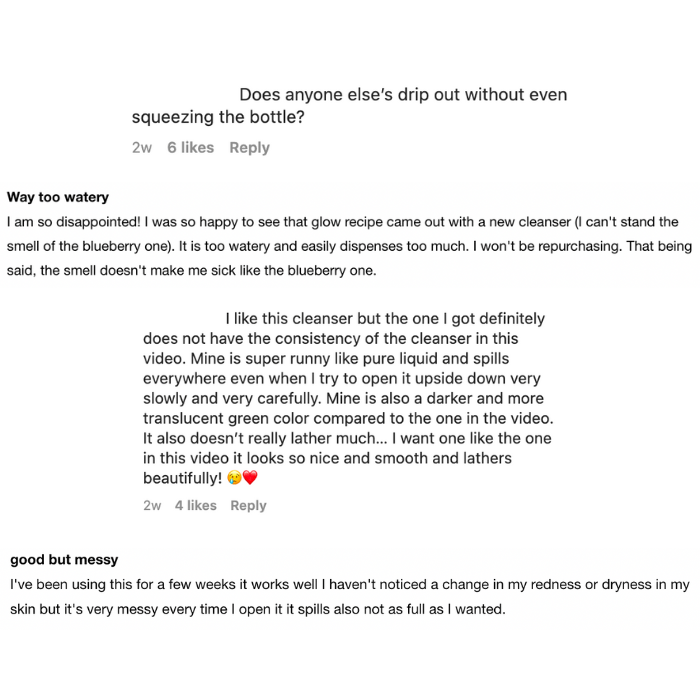 Did Glow Recipe release a batch that was not the up-to-par texture? As of now, I don't know the answers. What I do know is that I will continue to double cleanse when removing my sunscreen and SPF and use the Glow Recipe Avocado Cleanser as the second step.
Editor's Conclusion
I was surprised by my experiences with this cleanser, especially from a brand I greatly respect and love. Although I'm aware that product launches can come with faults, experiencing different outcomes with three of the same cleansers is hard to ignore. My experience wasn't as favorable as I expected, but I know that some users enjoy using the cleanser, and it works well for their skin. As for me, I won't let this experience ruin the way I think about the brand. I'll be willing to give this cleanser another try once I hear back from Glow Recipe and see what they say about these issues. Until then, I don't think I'll be repurchasing this cleanser anytime soon.
Want to see more discount codes? Check out the link: https://shopmyshelf.us/collections/51665
Sign up for our free online newsletter: https://bwth.in/newsletter
Shop all of our curated faves at: https://bwth.in/shop
Subscribe to our YouTube Channel for more information and product recommendations: https://bwth.in/subscribe