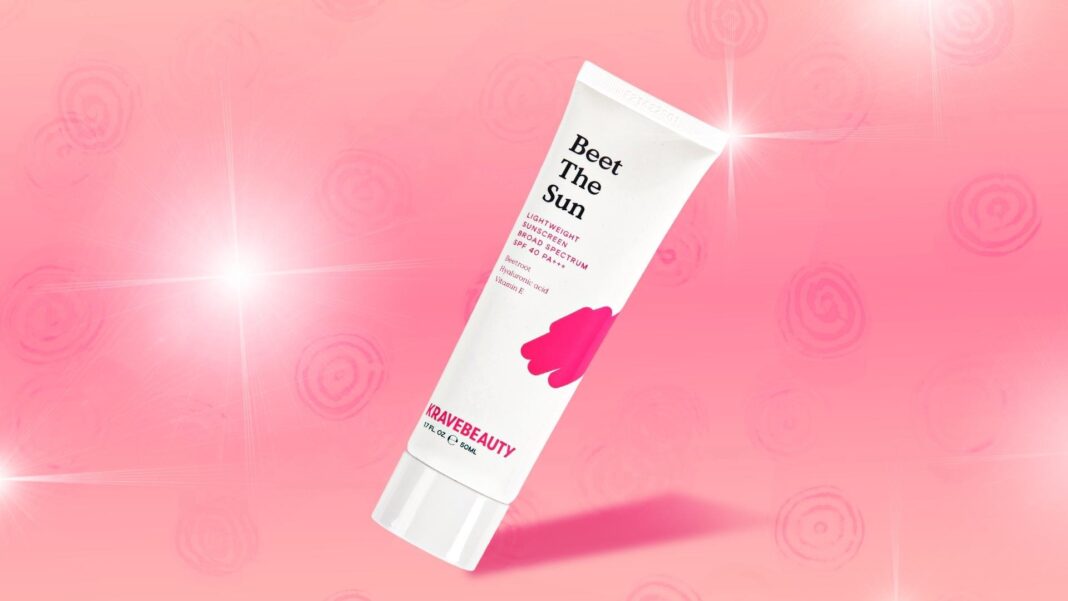 We're not lying when we said the skincare community collectively squealed the moment Krave Beauty announced the relaunch of their beloved Beet The Sun Sunscreen. Known for its lightweight texture and ability to protect against UVA and UVB rays, this sunscreen is a must-have for anyone who wants to keep their skin healthy and protected from the sun's harmful rays. But is it truly worth the hype as users say? Here's what we found about the Krave Beauty Beet the Sun Sunscreen.
What is it?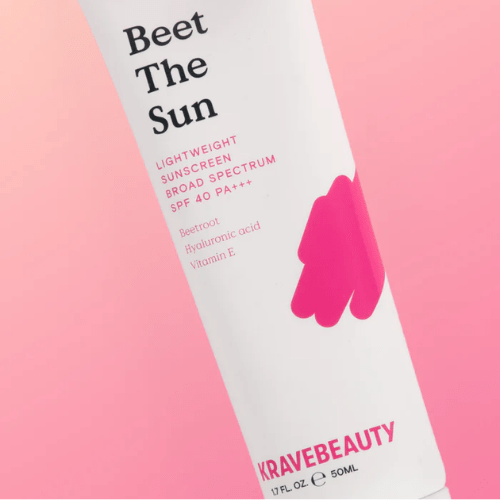 The reformulated and renewed Krave Beauty Beet The Sun Sunscreen is a lightweight and non greasy chemical sunscreen that combines UV protection and antioxidant properties from supercharged beetroot extract. Best of all, the product comes in a convenient squeeze bottle tube packaging that makes application easier and mess-free. Users report that their first impressions of the reformulated Beet The Sun are overwhelmingly positive, with many noting that the texture is even smoother and more luxurious than before. Overall, the renewed Krave Beauty Beet The Sun Sunscreen is an excellent choice for anyone who wants a comfortable, high-quality, effective sunscreen.
Key Ingredients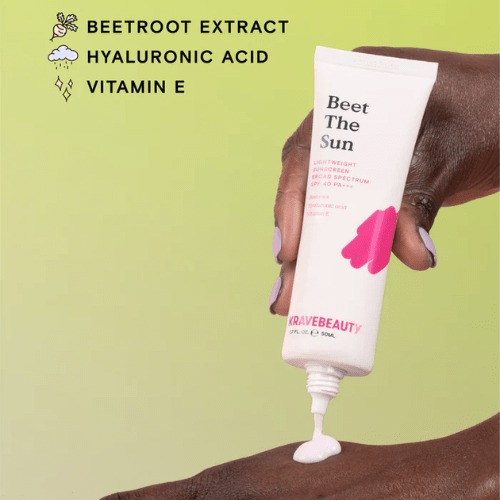 Beetroot Extract: provides anti-inflammatory & antioxidant properties to combat free radicals and UV rays.
Vitamin E: helps reinforce barrier repair and smooths out the look of skin.Hyaluronic Acid: attracts & retains moisture to keep skin hydrated all day.
Propanediol: helps prevent skin damage & water loss.
Actives:
Homosalate 10%, which absorbs short-wave UVB rays
Octisalate 5% to help with the water resistance of the formula and also provide protection from UVB rays
Avobenzone 3% to keep skin safe from both UVB and UVA rays
Octocrylene 3% to capture harmful UV rays before it's absorbed into the skin and also has emollient properties
Full Ingredient List:
Is the Krave Beauty Beet The Sun Really SPF 40?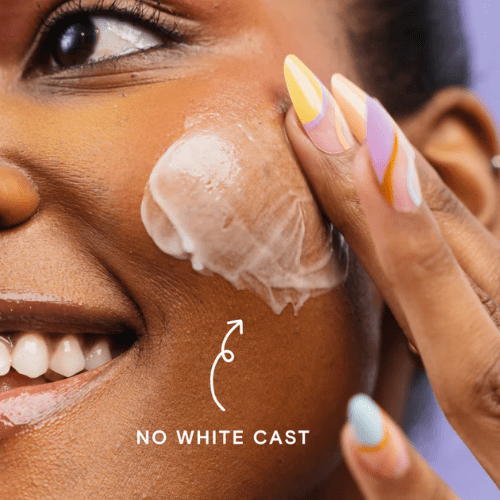 The biggest concern for many SPF users is whether this sunscreen is truly SPF 40. Since the previous sunscreen was ultimately removed from shelves due to the product's inaccurate advertised SPF level, it's understandable if users are skeptical about the reformulated Beet The Sun. Thankfully, Krave Beauty kept this in mind and was transparent about the re-formulation and testing process. The brand used FDA-approved filters while trying its best to maintain the original texture and application experience. They also verified the current SPF rating after conducting a lab test before launching the product. For more information regarding sunscreen and the process of creating and testing the sunscreen, make sure to read this article.
Is It The Same As The Original?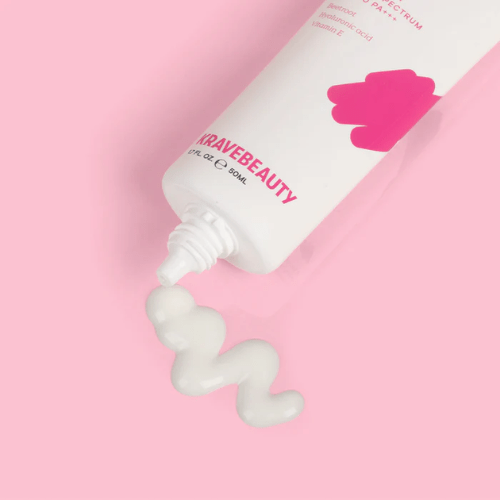 If you tried the original Beet The Shield sunscreen prior to discontinuation in 2021, you're probably wondering whether this will be the same as the first version. Unfortunately I didn't have the chance to try the original BTS sunscreen. But I asked Ashlyn Vaughn, an esthetician and blog contributor, about her experience with the product. Here's what she said about the difference between the two:
"The two formulas are similar but not quite the same. The original Beet the Sun (Beet Shield) had a higher SPF rating (on the packaging), a yellowish tint, a more lightweight texture, and a dewier finish. With that said, Krave Beauty prioritized replicating the original texture, and I think they nailed it! Given the adjustment to using FDA-approved chemical filters, the formula is slightly different, slightly thicker on application, and leaves a little less glow."
An Esthetician-Approved Experience: Ashlyn's Impressions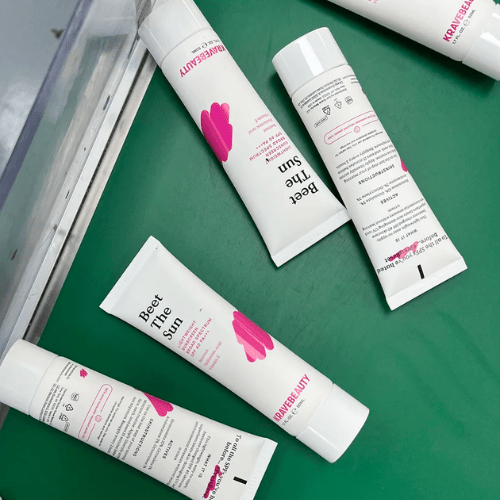 Firstly, I love the packaging. It's a perfect addition to the core line, and the tube looks so sleek and decorative when shelved. Next, the texture and finish; OMG! It is very reminiscent of the original formula. The scent and color are different, mainly due to the chemical filters used, but I didn't see that as bad. It has a light scent of typical sunscreen, and the finish will not leave a white cast behind. Some users, including myself, worried that the chemical filters would increase potential irritation. However, I was pleasantly surprised when this formula irritated my skin less than the previous version! But, if your skin barrier is compromised (over-exfoliation, harsh rubbing, product reaction, etc.), this sunscreen may leave a slight tingle. If that sounds like you, try a sun protectant with mineral filters. Overall, I can see their love and care for bringing back the Beet Shield magic.
Is It Beauty Editor-Approved?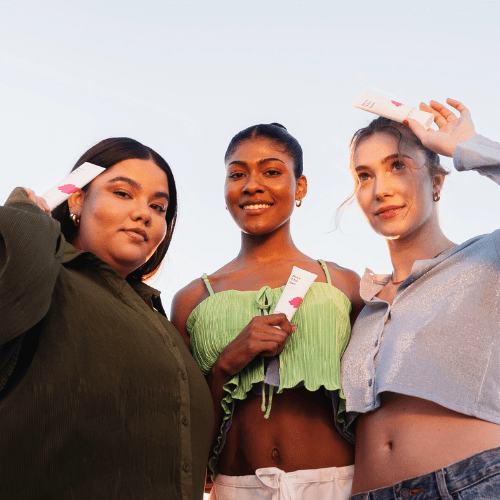 I can't compare it to the first version as a first-time user. But, I sure can share whether this product is worth it. I have had the chance to test this sunscreen for a few days before writing my official thoughts. And sure, some may think that is not enough time. But, as someone who has tested over fifty sunscreens within the past year, I know exactly what my skin likes and doesn't like.
Pros:
No white cast for me and my fair skin, minimal white cast, and close to none for darker complexions.
Super lightweight and thin, like a serum-type SPF.
It blends in quickly and absorbs into the skin.
Cons:
It has the typical SPF scent.
It can sting around the eyes.
Pills around the hairline when applied too heavily.
Since I have dry and sensitive skin, I tend to react quickly when testing out products. But when I tried using this sunscreen, it felt soothing and calmed my skin a bit! It is super thin and has a milky texture to it. So it felt very comfortable on the skin. It left my skin looking dewy and slightly oily. So, this might not be your best option if you have super oily skin or prefer a matte finish. The product did slightly pill on my hairline and nose, but that may be because I wear a LOT of SPF daily and reapply every few hours. Oh! Also, I have super sensitive eyes, and this did, unfortunately, tear up my eyes a little bit. Something to note if you struggle with sensitivity around the eyes when using chemical SPF.
If you like something that has minimal to no white cast and prefer a glowy finish, this is the right sunscreen for you. The product is simple, easy to use, and exactly what everyone wanted in return for the oh-so-popular Krave Beauty Beet The Sun SPF!
Want to see more discount codes? Check out the link: https://shopmyshelf.us/collections/51665
Sign up for our free online newsletter: https://bwth.in/newsletter
Shop all of our curated faves at: https://bwth.in/shop
Subscribe to our YouTube Channel for more information and product recommendations: https://bwth.in/subscribe
For more information about the Beet The Sun Sunscreen, check out Krave Beauty's CEO, Liah Yoo, talk about it here: