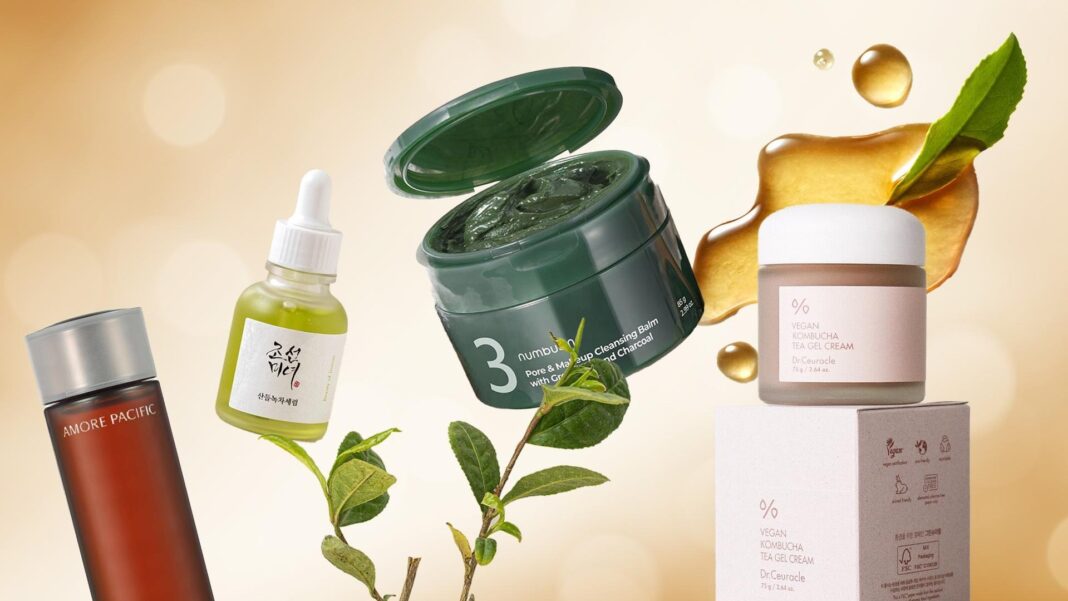 No matter the place, time, or occasion, anyone from all walks of life and across the globe can agree: nothing says more than a warm cup of freshly brewed tea. For Team Beauty Within, we're obsessed with tea, especially tea in skincare! Besides sipping on bubble tea, we love to brew our own floral teas or whisk up a good ol' matcha latte with oat milk!
As for skincare, we can't ignore tea's incredible benefits that can help lead to glowing skin – inside and out! If you're intrigued about how tea can help your skin, here's everything you need to know about this ingredient.
By the way, Beauty Within just launched a blooming tea in collaboration with lifestyle brand The Qi! Learn all about it here.
Where's Tea in Skincare Found?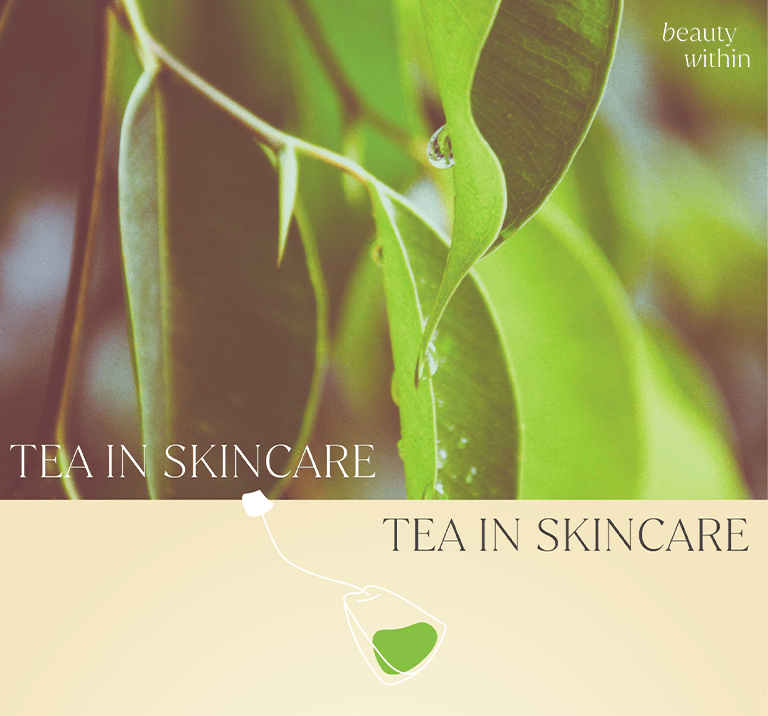 There may be over 3,000 different types of tea present today, but the most commonly known tea types (green tea, black tea, white tea, oolong tea) originate from one delicate and bright green plant: Camellia Sinensis. So when you look at your skincare product, you'll mostly find this plant written in the ingredients list.
Other commonly listed terms you'll find include:
Camellia Sinensis Leaf Extract
Camellia Sinensis Leaf Water
Camellia Sinensis Seed Oil
Camellia Sinensis Leaf Powder
Camellia Sinensis Ferment Filtrate
Epigallocatechin Gallate (EGCG)
Saccharomyces / Xylinum / Black Tea Ferment
Benefits of Tea in Skincare According to Type
Green Tea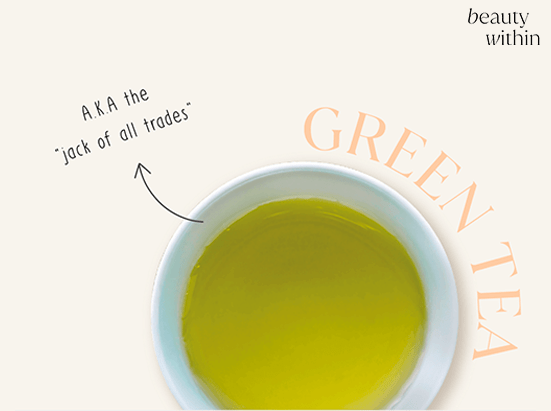 Green tea contains antioxidants, including flavonoids and catechins, one of which is a particular and unique antioxidant known as Epigallocatechin-3-Gallate (EGCG). This antioxidant is responsible for working all of the green tea's magic of calming and soothing inflammation and sensitive skin, fighting off free radical damage, and improving UV-damaged skin.
Green tea can also benefit oily and acne-prone skin types due to its rich tannin profile. These compounds are natural astringents that can help manage sebum production and even reduce the appearance of enlarged pores – leaving your skin comfortable all day long.
Skincare Products Containing Green tea
Black Tea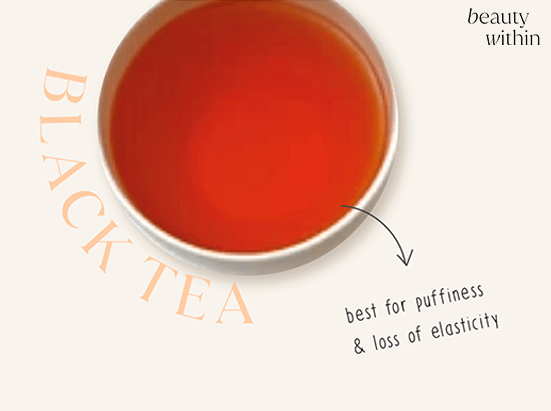 Since black tea is produced by undergoing an oxidation process, it contains theaflavins instead of EGCG found in green tea. These polyphenols fight against free radicals and UV damage to promote healthier skin.
Black tea is also highest in caffeine content, making it ideal for depuffing and firming up your skin.
The dark color of the tea also indicates its tannin content, which can help manage sebum production and reduce the appearance of enlarged pores.
Skincare Products Containing Black Tea
White Tea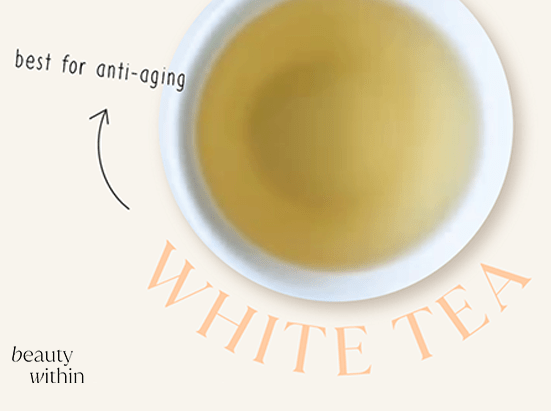 This tea may not be as common compared to its green and black counterparts, but there's one thing that makes it shine along the rest: antioxidant levels. Since white tea is minimally processed, it retains the highest polyphenol and flavonoids, which can help delay signs of aging, neutralize free-radical damage, protect against sun damage, and repair the skin barrier.
Another benefit lies in inhibiting an enzyme (Matrix Metalloproteinases or MMP) known to eat away at our skin's collagen and elastin production. Since white tea can help restrain MMP from wreaking havoc in our skin's deepest layers, you're going to look healthier and more youthful. 
Skincare Products containing White Tea
Kombucha Tea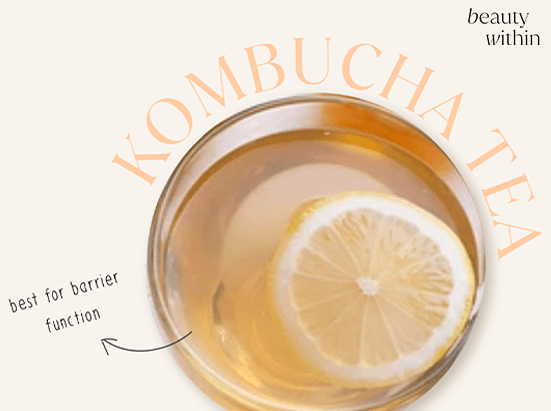 Although kombucha mainly uses black tea, the fermentation process is what separates this ingredient from the rest, Kombuch uses bacteria and yeast – both of which, when fermented, give way to a plethora of skin-benefiting microbes like pre-, pro-, and postbiotics as well as Vitamins B2. B6, B12, and Vitamin C.
These nutrients can help the skin fight against free radical damage, acne-causing bacteria, and oxidative stress while increasing skin elasticity and skin barrier function. Kombucha can also reduce inflammation and inflammatory skin conditions, exfoliate dead skin cells, and brighten up hyperpigmentation over time, thanks to the presence of lactic acid. 
Skincare Products containing Kombucha
Is it suitable for my skin type?
Tea is an excellent ingredient for all skin types and is generally safe for sensitive skin.
When should I use tea in skincare?
You can use your tea skincare products for both your morning and evening routines. It will ultimately depend on your preference! 
What does it pair well with?
Since tea in skincare is very gentle, you can pair this ingredient with your actives, other antioxidants, or hydrating and nourishing ingredients.
For green tea, you can layer on other antioxidant-rich ingredients, vitamin C, vitamin E, or hyaluronic acid.
For fermented black tea or kombucha, some of the best ingredients you can layer on are hyaluronic acid, AHAs, squalane, or shea butter. 
Do not mix with…
Tea is suitable for mixing with other active ingredients!
Any side effects?
Tea is generally tolerable for all skin types and is considered a "low allergen" ingredient that could benefit sensitive skin types.
See all Tea in Skincare Products in our Shop My Shelf Collection:
Can't enough of Beauty Within?
Take advantage of our exclusive discount codes to your favorite brands: https://shopmyshelf.us/collections/51665
Get your weekly dose of updates & inspiration with our newsletter: https://bwth.in/newsletter
Shop all of our curated faves at: https://bwth.in/shop
Subscribe to our YouTube channel for more information and product recommendations: https://bwth.in/subscribe