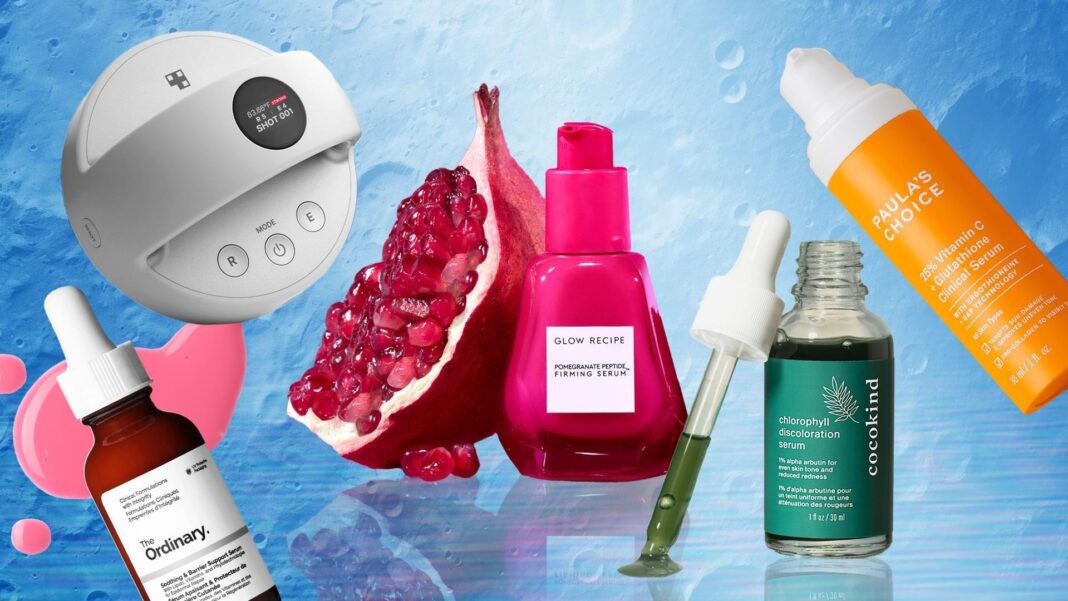 We love discovering new additions to the beauty industry and this month's no exception! We found nine September 2023 Beauty Finds that we think are well worth investing in for your next skincare routine and beauty rituals.
Skincare Products for September 2023 Beauty Finds
The Ordinary Soothing & Barrier Support Serum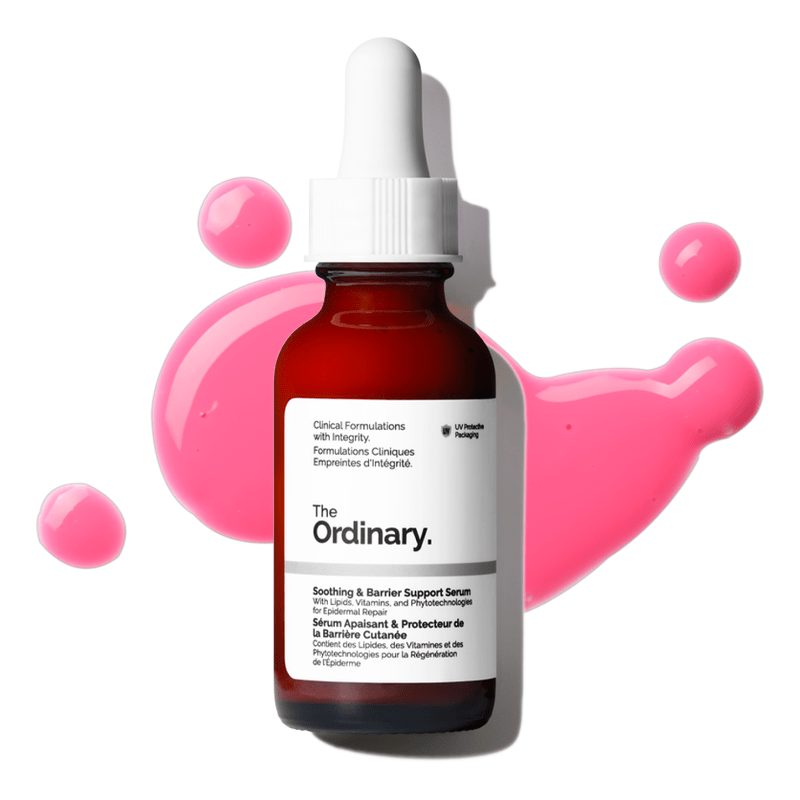 As we reach fall season, the change in climate can do a number on our skin. If you're feeling your skin feeling extra sensitive, stinging, and itchy, this Barrier Support Serum from The Ordinary is here to give you a helping hand. 
This latest Ordinary drop is a Barbie-pink and super soothing serum infused with multiple active ingredients notorious for giving irritated and inflamed skin much needed relief. There's Vitamin B12 (responsible for the pink hue), a Ceramide Complex, Bisabolol, Niacinamide, Sugar-based hydrators, and Centella Asiatica – all of which work to repair and strengthen the skin barrier for a calm, hydrated, and healthy complexion. And in case you're wondering, your face won't be pink when you use the serum!
Glow Recipe Pomegranate Peptide Firming Serum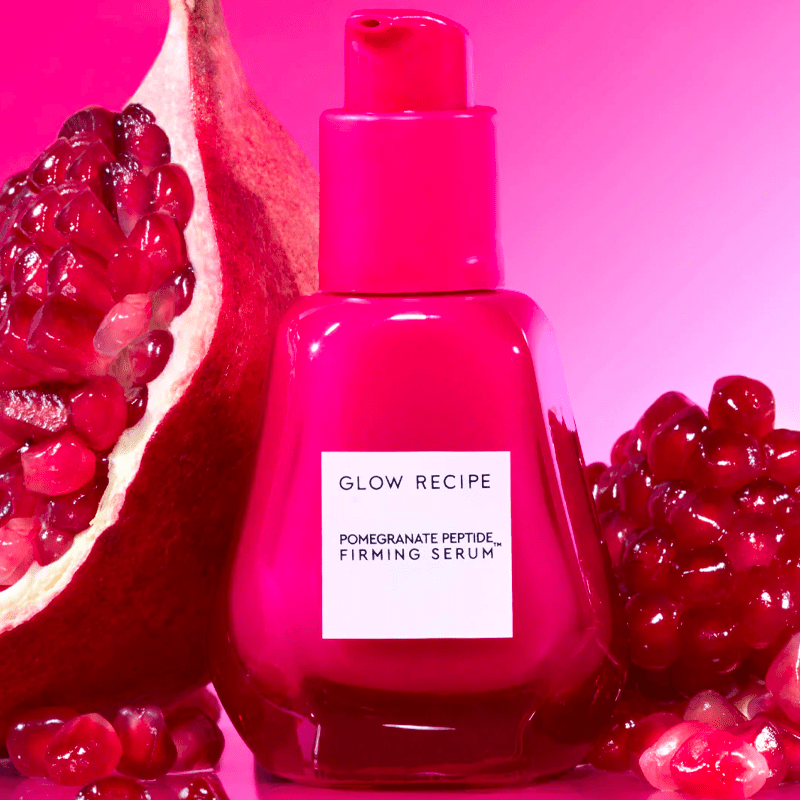 Peptides are currently having a moment in the skincare world, and this newcomer from Glow Recipe is no exception. This gorgeous serum is designed to firm and lift the skin, improve the appearance of fine lines and wrinkles, and restore skin elasticity and radiance back for a happy looking complexion you'll love. 
The milky oil serum includes a combination of polypeptides for restoring your skin's youthful glow, while antioxidant-rich pomegranate extract and seed oil moisturizes, and hyaluronic acid hydrates and plumps for smooth and radiant looking skin. Can we also take a moment to appreciate the pomegranate seed packaging? It'll look gorgeous sitting on top of any vanity!
Cocokind Chlorophyll Discoloration Serum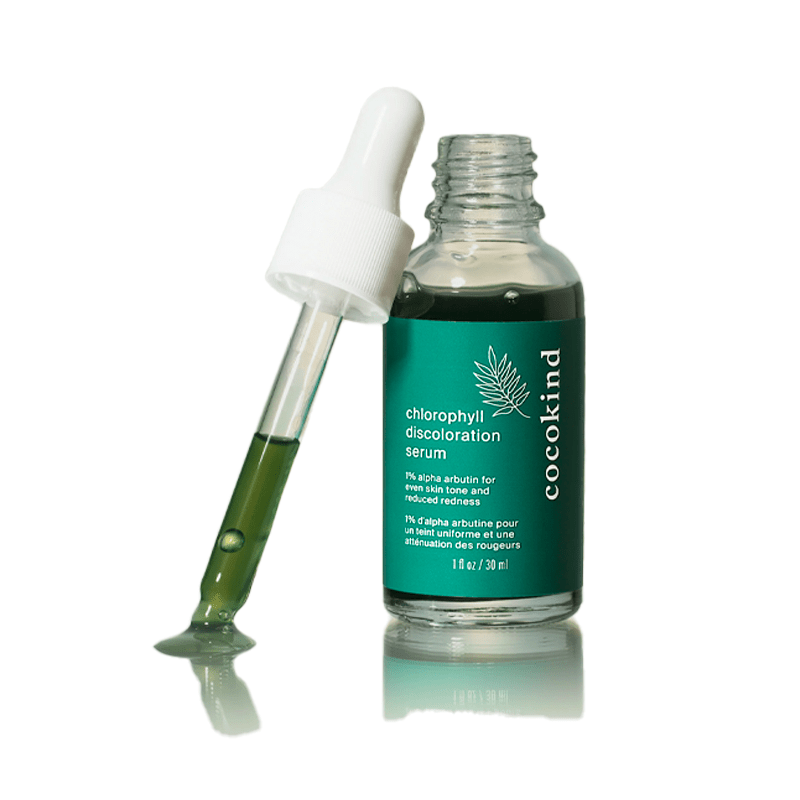 Chlorophyll is more than just a green pigment; it makes a fantastic ingredient for supplying the skin with potent antioxidants, while calming down redness and inflammation. This newcomer from Cocokind is a plush and cushiony jelly serum infused with chlorophyll, licorice root, alpha arbutin, and panthenol to calm, soothe redness and irritation, and fade dark spots and uneven tone.
Best of all, this serum is fragrance-free and made with sensitive skin in mind, so you can confidently apply this serum and see your skin recover from UV damage, discoloration, and post-blemish marks over time.
Paula's Choice 25% Vitamin C + Glutathione Clinical Serum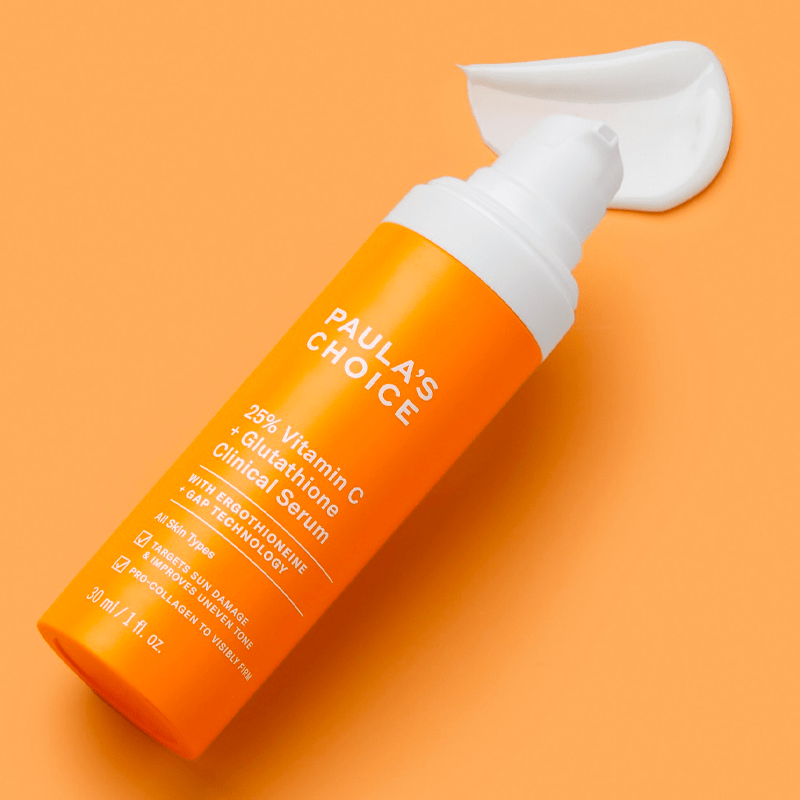 Here's another product that focuses on brightening up the skin!
This clinical-level serum includes 25% Tetrahexyldecyl Ascorbate and Ascorbyl Glucoside – both of which are stabilized forms of Vitamin C to help brighten up discoloration, uneven skin tone, and restore radiance and elasticity back to the skin. 
To give vitamin C a helping hand, glutathione joins the mix to boost your skin's antioxidant levels and minimize irritation.
The Inkey List Tripeptide Plumping Lip Balm
Love lip plumpers but can't stand the cooling sensation it gives? The Inkey List knows what's up! This clear and light fluid balm may seem very simple, but it's formulated with 6% Tripeptide Complex and Hyaluronic Acid Filling Spheres to repair, smooth and hydrate your lips.
As for the plumping effect, this lip balm is said to gradually work its magic up to 40% in four weeks, so you'll need to use it consistently in order to see results. As for the experience, reviews note that the fragrance-free lip balm tastes like the glue from an envelope. Despite this, the balm doesn't make your lips tingle or give off a cooling sensation – which makes it ideal for soothing sensitive, damaged, or cracked lips.  
Farmacy Tea Harvest Green Clean Trio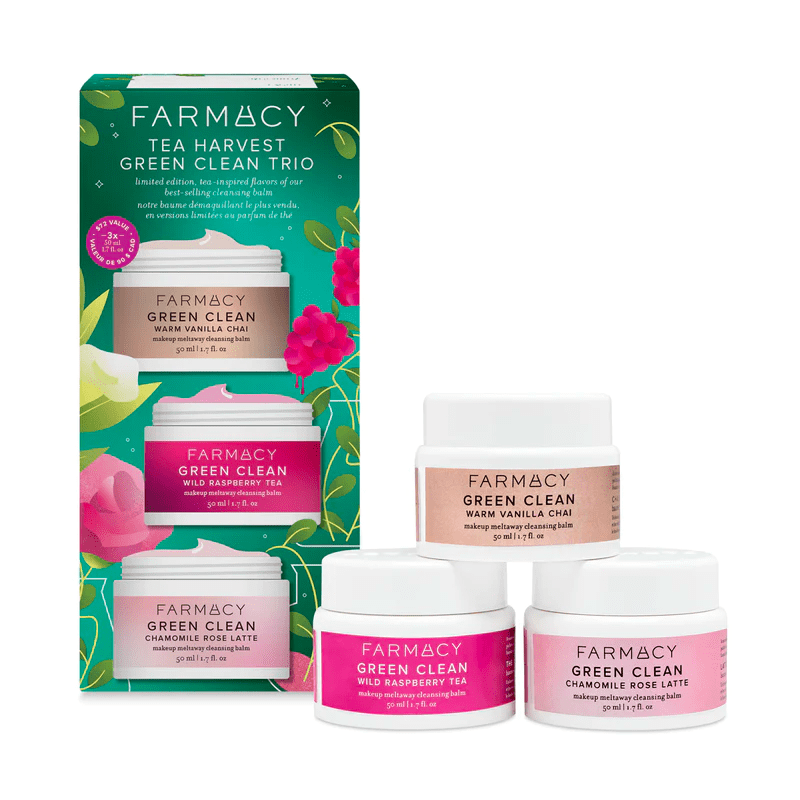 Although Farmacy's cleansing balm has been around for ages and continues to be their best seller, this Green Clean Trio features three brand new flavors, this time, inspired by tea!
The sorbet-textured cleansing balms come in three delicious tea flavors including Warm Vanilla Chai, Wild Raspberry Tea, and Chamomile Rose Latte for indulging your senses as you work the cleansing balm into your skin to dissolve away makeup, sweat, excess oils, and grime from the day.
SKINFOOD Shine Muscat BHA 2% Toner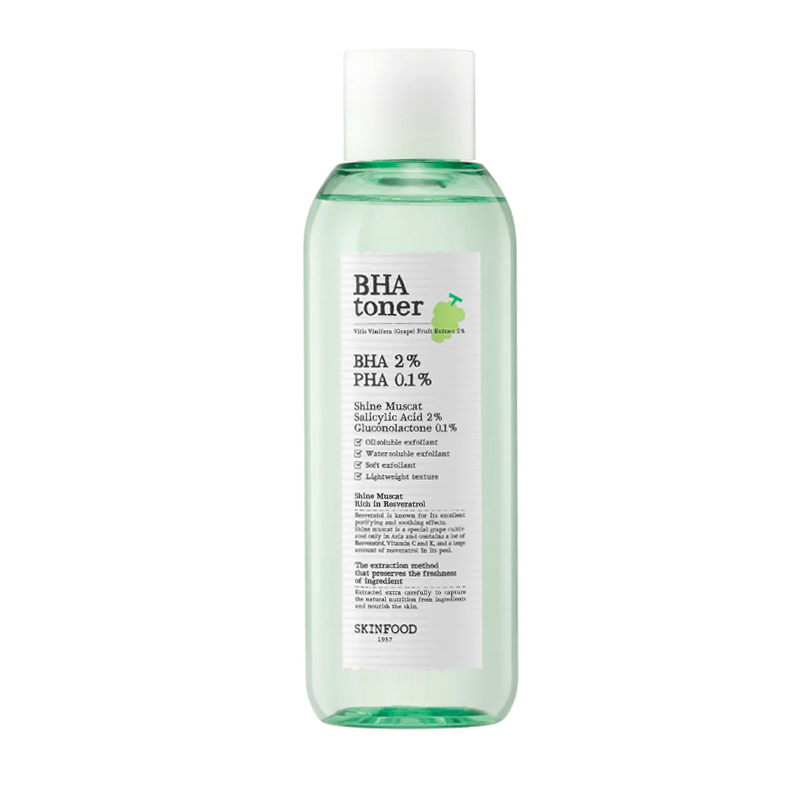 **You can use code "BEAUTYWITHIN" for 10% off your purchase!
Anyone who grew up with Korean or Japanese snacks knows very well about Shine Muscats – a  juicy green grape with a crisp bite and sweet distinct flavor. So, it's interesting to see this highly coveted ingredient used in a skincare product! 
Since Shine Muscat is a grape, it's rich in polyphenols and antioxidants, including resveratrol, as well as Vitamins C, K, and B6 to soothe the skin. The exfoliant toner also includes 2% Salix Alba Bark Extract (a very gentle form of BHA), gluconolactone (PHA), hyaluronic acid and panthenol to gently remove excess dead skin cells and waste while simultaneously hydrating the skin.
Our Body Care Picks for September 2023 Beauty Finds
Medicube Age-R Contour Body Shot
**You can use code "BEAUTYWITHIN" for 10% off
We know Medicube for its top-notch skincare tools, so let's say we were "shook" when we saw this new body care device. The Age-R Contour Body Shot is a handheld body device that uses high frequency RF and mid-frequency EMS to tone, boost collagen, and improve uneven skin texture all throughout the body.
The body care device works by suctioning a targeted portion and "shooting" the skin with high frequency RF or mid-frequency EMS for ten seconds. It's effective for arms and thighs, but also for the abdomen, love handles, and lower buttocks – you'll be sure to see improvements in skin sagging and elasticity with continued use. 
Hanni Splash Salve
Now that the weather is becoming cooler, you'll want to start giving your body some extra T.L.C. This Splash Salve acts like a hair mask – but for your body!
The luxurious salve is an intense treatment that immediately hydrates and leaves your skin feeling nourished, soft, and supple hours after your shower. Spread on this beautiful treatment (made with jojoba, shea butter, coconut oil, and glycerin) right before you get out of your shower, rinse quickly, then pat dry. Best of all, you'll smell great! 
Lifestyle
The Qi x Beauty Within Blooming Tea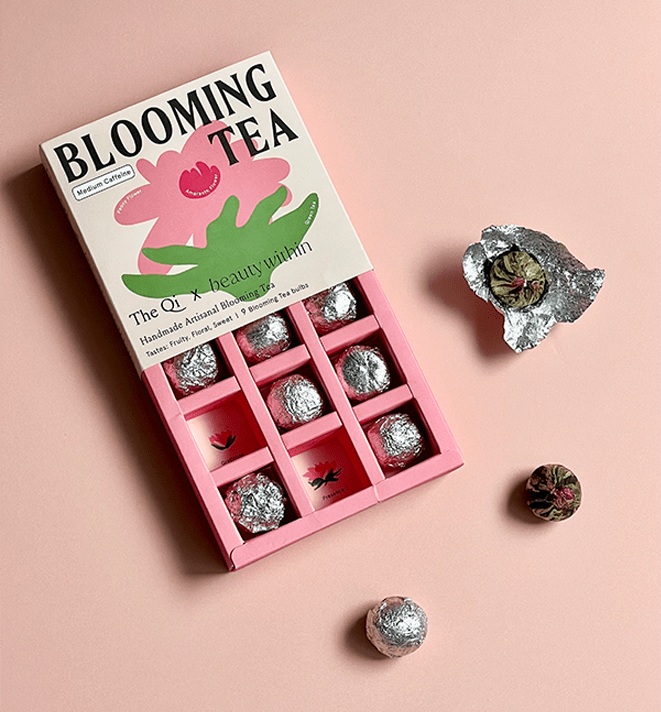 A beauty ritual isn't complete without drinking a nice cup of tea to unwind or perk you up! The Blooming Tea is Beauty Within's latest collaboration with The Qi – a wellness brand that focuses on creating slow rituals in a world where everything's fast paced.
The Blooming Tea comes packaged in a box with nine truffle balls. Unwrap one and drop into hot water; you'll see it unfurl and bloom into a beautiful flower tea made with premium green tea leaves, peony flowers and globe amaranth for sweet, floral, fruity notes.
For more information about the launch, you can check out our article on the collaboration here.
Want to see our entire collection of September 2023 Beauty Finds? Here's our shelf:
Can't get enough of Beauty Within?
Take advantage of our exclusive discount codes to your favorite brands: https://shopmyshelf.us/collections/51665
Get your weekly dose of updates & inspiration with our newsletter: https://bwth.in/newsletter
Shop all of our curated faves at: https://bwth.in/shop
Subscribe to our YouTube channel for more information and product recommendations: https://bwth.in/subscribe