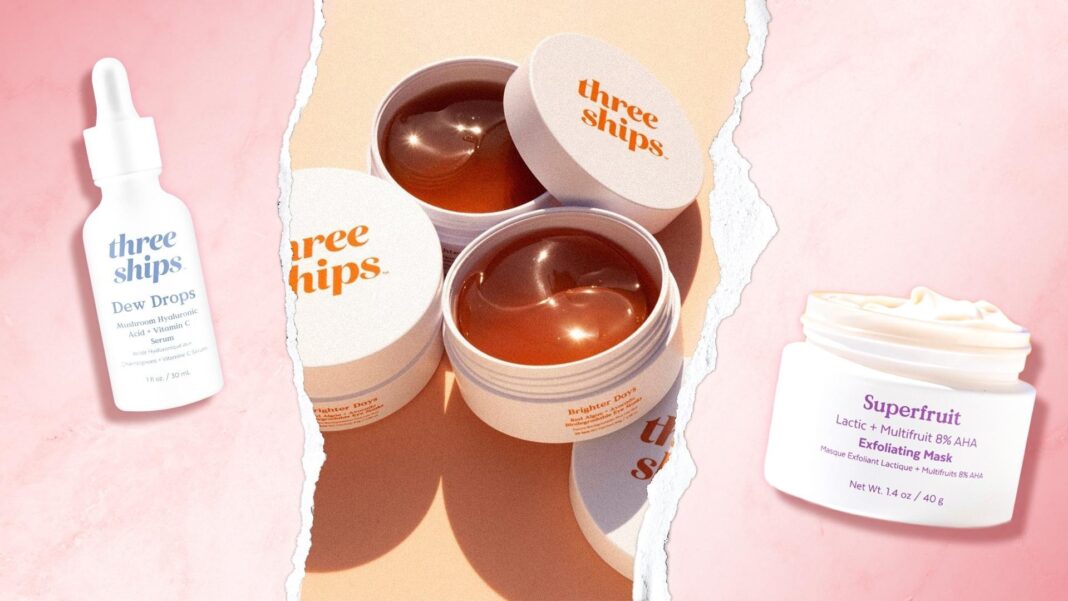 The holiday season is officially here! For the 2022 Black Friday and Cyber Monday sales, we want to spread the news of ongoing deals from our favorite skincare and beauty brands, including the natural beauty brand Three Ships Beauty! This year, this beauty brand will not only be offering amazing deals but also give back to the community by sponsoring the Make-A-Wish foundation's annual holiday event! Here are all the deets!
Three Ships Beauty Promotion Details
From today to November 28, Three Ships Beauty is having a Buy One Get One Free event where you can grab lower priced items for free! And depending on the day you make your order, you can also receive a free gift! Here's a breakdown of the gifts and offers:
Thursday (November 24)

: Three Ships branded luxe Egyptian cotton face wash cloth
Friday (November 25)

: Three Ships Pina Colada Sugar Lip Exfoliator with orders over $100+ OR a Dual-sided aluminum mask brush & silicone mask bowl
Saturday & Sunday (November 26- 27)

: Satin pillowcase
Monday (November 28)

: 15% off select items
Doing Good For the Community
Three Ships Beauty will be sponsoring Make-A-Wish's annual Trees of Joy event as the "Fairy Godmother Sponsor" by providing a $5,000 monetary donation. The brand will also be donating their Gift of Glow holiday kits to the Make-A-Wish Moms at the event as well! If you're feeling extra generous this year, you can also provide a donation at the checkout page to help reach the monetary goal!
Editor's Reviews
Dew Drops Mushroom Hyaluronic Acid + Vitamin C Serum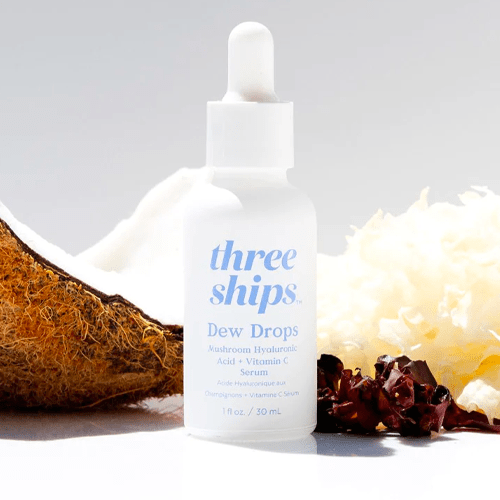 What it is: Three Ships Beauty's popular hydrating and brightening water-based serum to leave behind a plump and glowing complexion.
Highlights:
Deeply hydrates and plumps up skin
Evens out skin tone and texture
Delivers potent antioxidants
Minimizes inflammation & redness caused by oxidative stress
Key ingredients:
Tremella Mushroom
Kakadu Plum
Red Algae Extract
Texture: Goopy & viscous but easily spreadable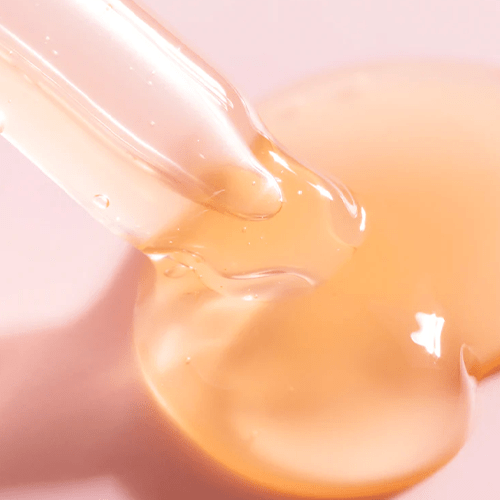 Editor's Review:
Ease of application: 4/5
At first, I didn't realize how popular this serum was. But after using this serum in my routine for weeks, I finally understand the hype! This tiny but mighty product provides intense hydration and brightening to the skin! I could see a difference in my skin on the days I used this serum compared to the days I didn't use it at all! Not only do my acne scars and redness look lighter, but my skin feels like it drank a big glass of water! I also appreciate that the dropper dispenses just the right amount every time I use the serum! And now that the weather is colder, I find that the serum helps to keep my skin less tight and stiff when layered beneath my moisturizer.
Why four stars?
One caveat I notice is that when I incorporate this serum into my routine, I have to set aside some time between steps to let it fully absorb. If I apply the rest of my routine in a hurry, the serum will eventually cause all the products I use afterwards to pill. Since I don't want to wash out my routine and start over, it helps to give myself some time in between steps. Once the serum thoroughly absorbs my skin however, I notice my makeup going on smoother and flake-free!
Brighter Days Red Algae + Avocado Biodegradable Eye Masks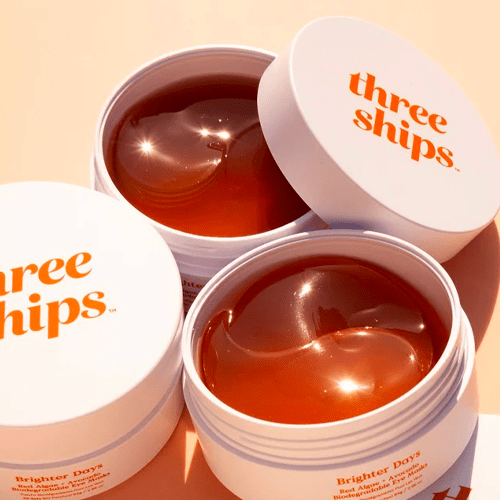 What it is: A biodegradable hydrogel eye mask that visibly depuffs, brightens, and hydrates the delicate under eye area in ten minutes.
Highlights:
Leaves under eye area visibly brighter and nourished
Reduces appearance of puffiness and brightens up appearance of dark circles
Key ingredients:
Red Algae
Avocado Extract
Glycerin
Texture: Hydrogel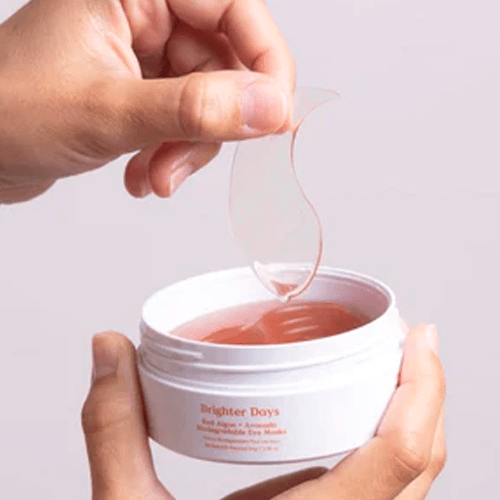 Editor's Review:
Ease of application: 4.5/5
Although I don't use them often, I enjoy using hydrogel eye patches! When I discovered that Three Ships Beauty created a nourishing eye patch to brighten and depuff the under-eye area, I knew I had to get my hands on it! And this certainly did not disappoint! Since I'm constantly staring at a screen for long hours of the day, I appreciate the therapeutic cooling effect the hydrogel patches make once they touch in place. After application, my undereyes visibly feel and look refreshed too!
Why four and a half stars?
Unfortunately, I removed one star because the product didn't come with a spatula, which made it slightly tedious to fish out with my fingers – especially since the serum is slippery! I also realized that if a particular eye patch has more serum, it tends to slide down my cheek instead of staying in place. But aside from these mild inconveniences (which the brand's product page addresses), the eye patches work very well and are worth trying out! As a side note, having hydrogel eye patches that dissolve in water is a clever way to dispose of them once you're done!
Superfruit Lactic + Multifruit 8% AHA Exfoliating Mask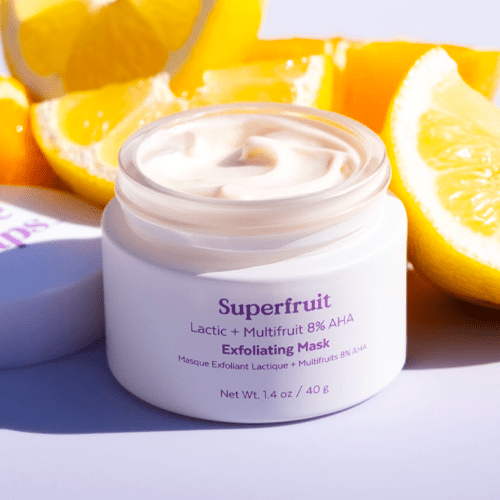 What it is: A gentle exfoliating wash-off mask infused with gently fruit derived AHAs
Highlights:
Gently buffs away excess dead skin cells
Brightens up the skin complexion
Renews dull and congested skin
Soothes & hydrates
Key ingredients:
Lactic Acid
Fruit AHA Blend
Rice Powder
Aloe Vera
Texture: Runny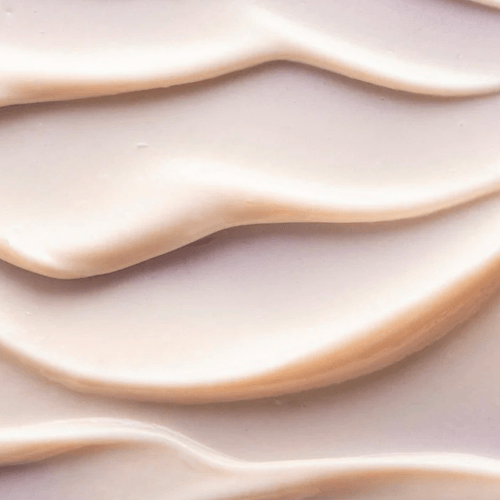 Editor's Review:
Ease of application: 5/5
Holy moly, this wash-off mask is good! As an oily and acne-prone skin gal, I'd had my fair share of using clay masks to help control excess sebum and congested skin. But this exfoliative mask is certainly on another level! I loved that I could apply this mask directly onto my face after washing without needing to pat dry beforehand! Not to mention that this product was super gentle and didn't make my skin feel uncomfortable or overly tingling! After waiting for five minutes and rinsing off the mask, WOW! My effects are almost immediate! My face felt smooth and soft, but my skin looked brighter and more evened out! And since it's gentle, I know I can use this mask often throughout the week!
Editor's Final Verdict
This beauty brand continues to deliver excellent products! I can appreciate the efforts they make in being transparent with their audience! For instance, despite having a slight inconvenience with the eye patches sliding down, I realize that the brand directly addresses this "issue" on its product page! I also noticed that Three Ships Beauty is transparent about showing where each ingredient in their product formulations is sourced while the products are reasonably priced! As for the user experience, I found all three products easy and enjoyable to incorporate into my routine. I'm sure I will continue to look out for more products to try in the future (totally eyeing the delicious-sounding lip butter and the lip scrubs)!
Be sure to take advantage of their ongoing sales until November 28th and give back to the community by making a generous donation!
Want to see more discount codes? Check out the link: https://shopmyshelf.us/collections/51665
Sign up for our free online newsletter: https://bwth.in/newsletter
Shop all of our curated faves at: https://bwth.in/shop
Subscribe to our YouTube Channel for more information and product recommendations: https://bwth.in/subscribe