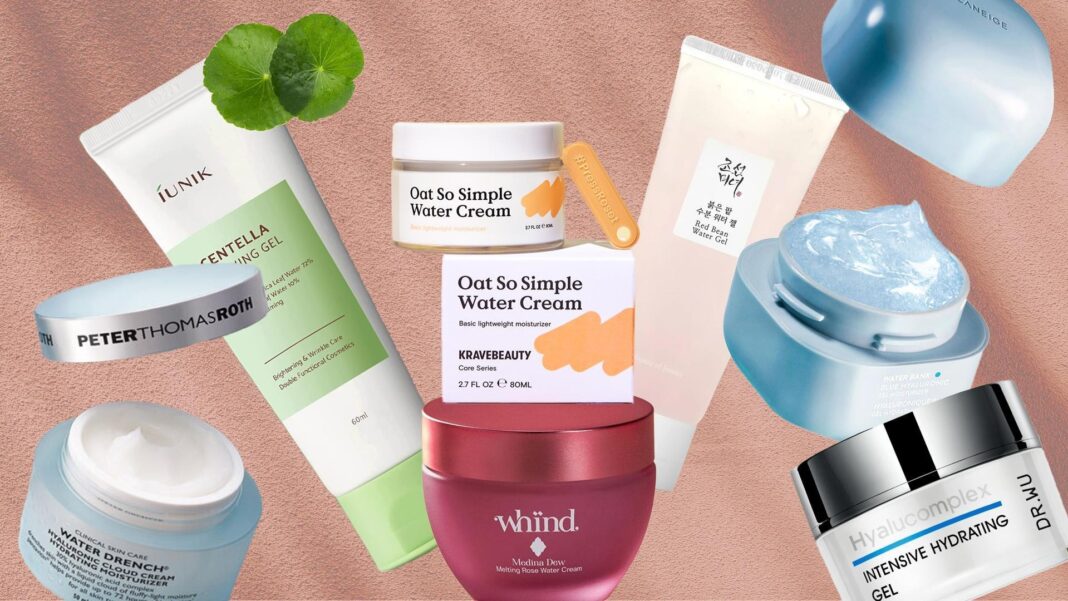 There's a good reason why the best oil-free moisturizers are ranked highly and are well sought in the skincare community. They're lightweight, hydrating, and contain many ingredients that can benefit oily, acne-prone, and combination skin types. If you're curious about what to add next to your skincare routine, we'll be listing out the best oil-free moisturizers for every skin type.
If you prefer moisturizers with thicker consistencies, you can check out our article here.
Best for Oil-Free Face Moisturizer (Overall)
The Ordinary Natural Moisturizing Factors + Beta Glucan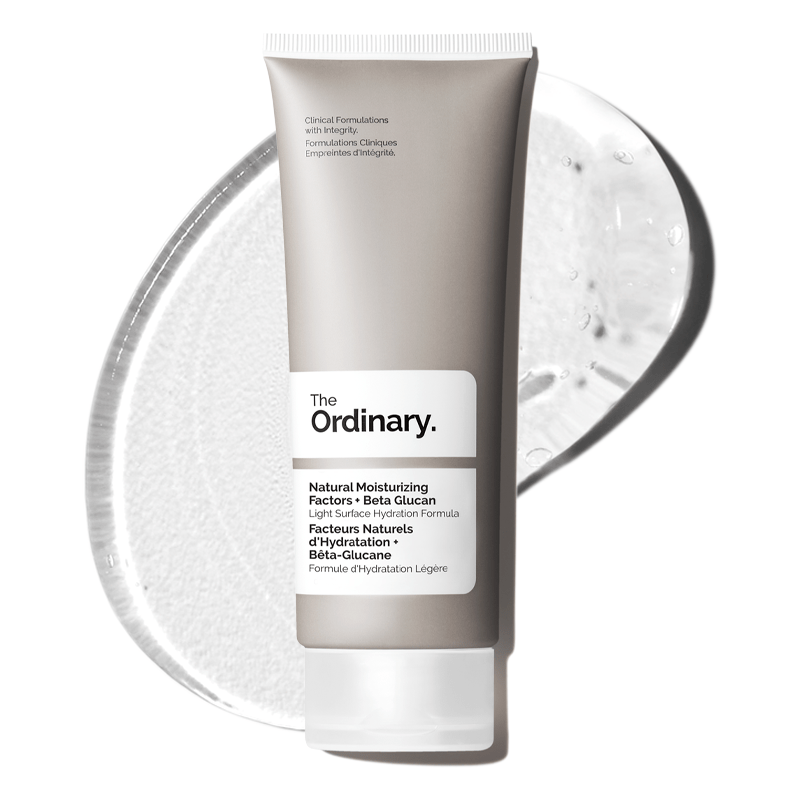 Key Ingredients: Beta-Glucan, Ceramides, Amino Acids, Allantoin, Urea, Sodium Hyaluronate
Qualities: Lightweight Gel; Strengthens Skin Barrier
Good for: Oily Skin; Combination Skin
Description:
When you're in need of a simple moisturizer that does its job without clogging up your pores or leaving a heavy residue behind, Ordinary's got you!
The gorgeous water-gel type texture is perfect for spreading without tackiness and pilling. Once absorbed into the skin, the amino acids, ceramides, and mushroom derived beta-glucan ensure that your skin will remain soothed, comfortable, and perfectly skin-like no matter where you go.
Stellar Review (shortened for readability):
"My skin is very temperamental – it's oily, sensitive, acne-prone, and often dry due to prescription acne meds. I find most moisturizers either don't provide enough hydration or break me out. This moisturizer is the solution. It's very hydrating, lightweight, and hasn't caused my skin to develop any irritation or acne. It makes my skin look and feel so hydrated." – Alex
Best Oil Free Moisturizer with SPF
Dermalogica Oil Free Matte with Broad Spectrum SPF 30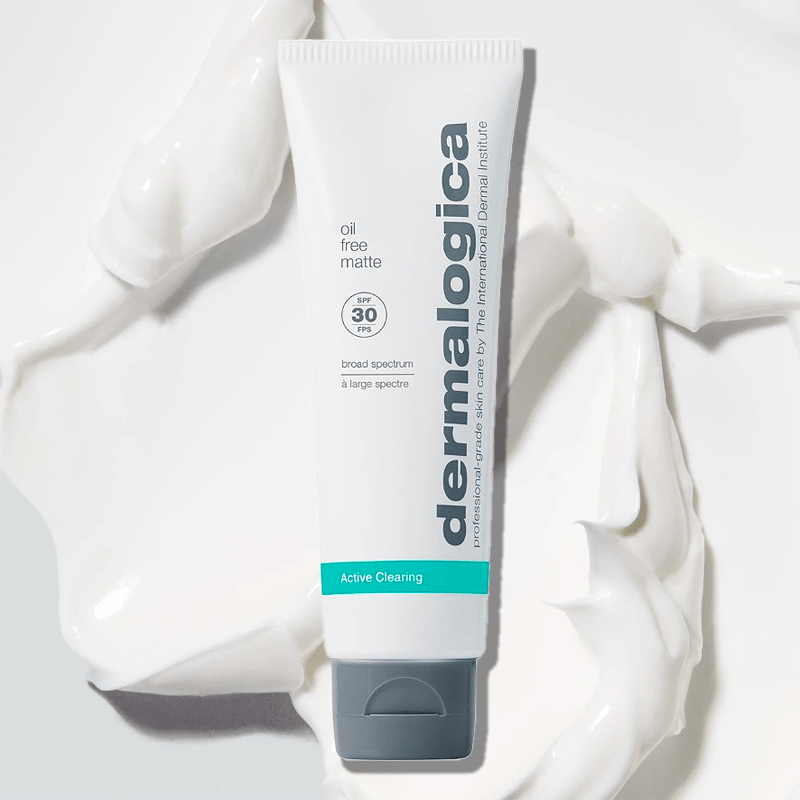 ** You can use code "BEAUTYWITHIN" for 15% off your purchase!
SPF Filters: Chemical
Key Ingredients: Niacinamide, Horse Chestnut Seed Extract, Panthenol, Caffeine, Biotin, Zinc Gluconate
Qualities: Oil-free; Ultra-sheer; Matte-finish; Refreshing Citrus Scent
Good for: Oily Skin; Acne Prone Skin
Description:
This product is more than just an oil-free moisturizer; it's a sunscreen that blends beautifully into the skin without a white-cast, and leaves your face looking matte and shine-free.
The pillow-soft and plush cream is ultra-sheer and infused with zinc gluconate, caffeine, niacinamide, biotin, and yeast extract – all of which help to mop up excess sebum as you go about your day.
Stellar Review:
"This is one of my favorite products, it's very light and sinks into the skin quickly. I use it as a moisturizer and sunscreen since I have oily skin. It's the best I've found to keep your pores clear." – Maxwell
Best Vitamin C Oil-Free Moisturizer
Origins Ginzing Energizing Gel Cream with Caffeine & Niacinamide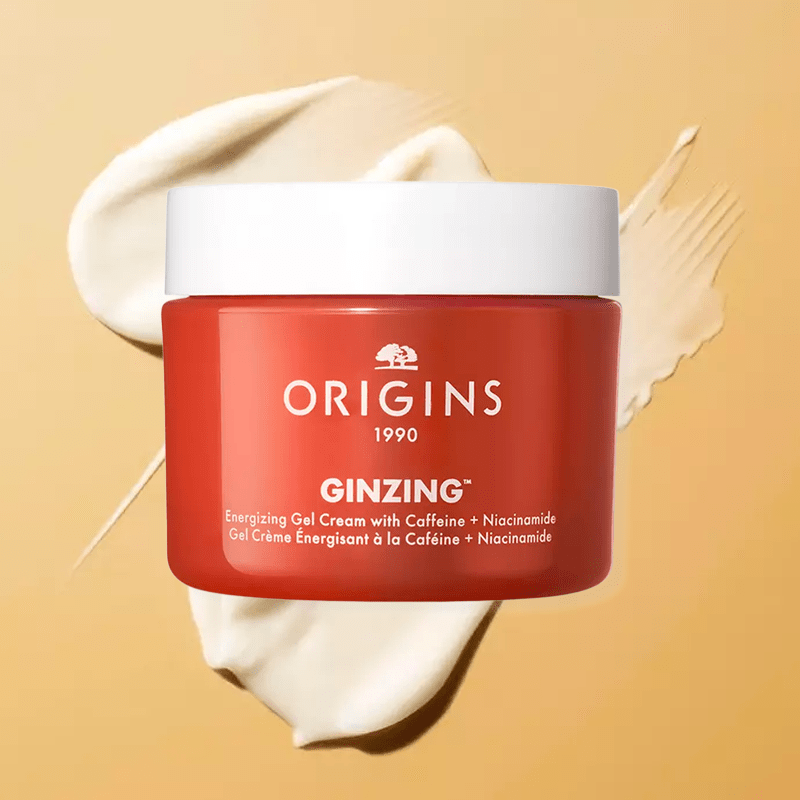 Key Ingredients: Vitamin C, Niacinamide, Caffeine from Coffee Beans, Triple Panax Ginseng
Qualities: 72 Hour Hydration, Increased Radiance, Lightweight and Bouncy
Good for: Oily, Normal, Dry, Combination Skin
Description:
This gel cream might not look like much, but this best-seller shines through its ingredients. Infused with Vitamin C derivative 3-O Ethyl Ascorbic Acid, Niacinamide, Caffeine, and Ginseng, the gel cream is refreshing, nourishing, and great for perking up fatigued skin back to its radiant self. Your skin will look plumper, brighter, and healthy without stickiness or excess shine!
Stellar Review:
"This smells phenomenal! I was gifted by Origins US in exchange for my honest review. It smells so citruy and feels like you're putting water onto your face! It blends very quickly and easily and doesn't leave any residue once blended. If feels really cooling in the morning and helps brighten up my pesky dark spots. It also helps depuff my face in the morning!" – Gill
Best Oil-Free Moisturizer for Oily Skin
Beauty of Joseon Red Bean Water Gel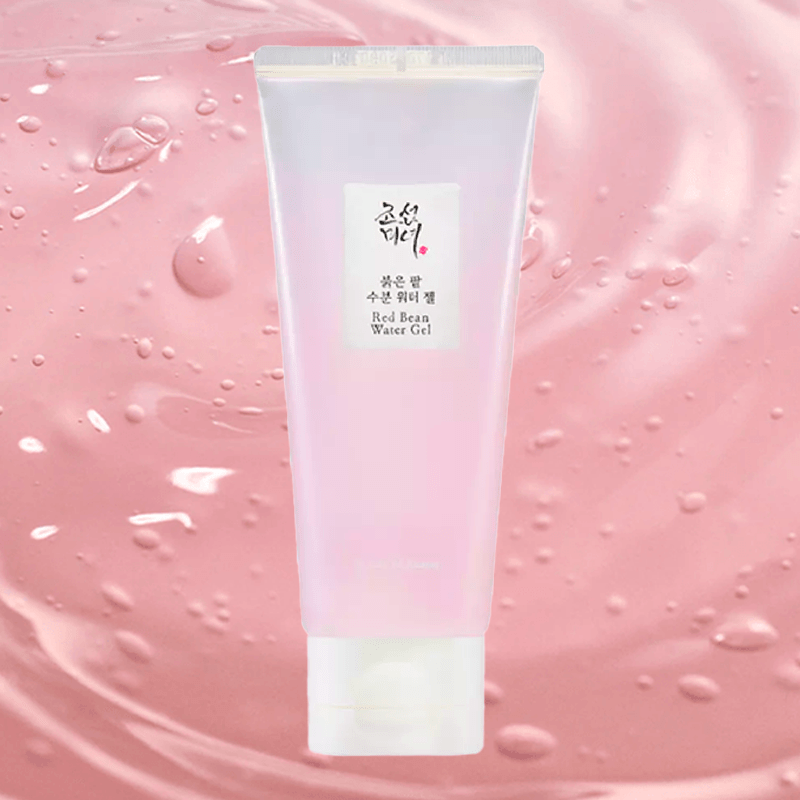 ** You can use "BEAUTYWITHIN" for 10% off your purchase
Key Ingredients: Red Bean Extract, Peptide Complex
Qualities: Vegan; Fragrance-Free; Lightweight Gel; Regulates Oil-Water Ratio
Good for: Oily; Acne-prone; Combination Skin
Description:
Not only does this water gel look like a gorgeous water drop, but it's the perfect hydrator for oily and acne prone skin types! Infused with Haenam Red Bean Extract, this Beauty of Joseon moisturizer naturally helps mop up excess sebum, while a 3-peptide complex helps your face look plump and radiant from the inside-out.
As for the texture, the gel goes on smoothly and sinks nicely into the skin without clogging pores or compromising texture. Hydrated skin never looked so refreshing!
Stellar review:
"I have very oily skin and I've been looking for a moisturizer tat gives my skin enough hydration without making it look as shiny as doughnut glazing. I really like Red Bean Water Gel because just a little amount is enough to cover my whole face, it's lightweight and gets absorbed quickly. I'm on my fourth bottle now and I would totally recommend it to people who have similar skin concerns." –Zoé
Best Oil-Free Moisturizer for Acne-Prone Skin
iUNIK Centella Calming Gel Cream
** You can use "BEAUTYWITHIN" for 10% off your purchase
Key Ingredients: Centella Asiatica, Tea Tree Leaf, Niacinamide, Allantoin, Six Sprouts: Alfalfa, Broccoli, Wheat Germ, Cabbage, Rapeseed, Radish Extracts
Qualities: Refreshing, Hydrated, Lightweight & Calming Gel Cream, Oil-Free Moisturizer
Good for: Oily; Acne-Prone; Sensitive
Description:
This calming gel cream is affordable and highly effective! This refreshing, oil-free moisturizer is perfect for calming down inflamed and acne-prone skin, especially during the hot and humid summer, without turning your face into a shiny greaseball.
Infused with Centella Asiatica leaf water, tea tree leaf water, and sprout vegetable extracts, this gel cream delivers a burst of hydration, antioxidants, and brightening effects for a calm and refreshed complexion.
Stellar Review:
"This has gotta be my favorite cream of all time! I use it for over a year now and keep repurchasing it. It's both lightweight yet moisturizing, is perfect for my sensitive skin, soothes, heals, and also seems to help with my occasional breakouts. I have almost none of them anymore since using this. Highly recommend it!" –SOPHIESKIN89
Best Oil-Free Moisturizer for Dry Skin
Peter Thomas Roth Water Drench Hyaluronic Moisturizer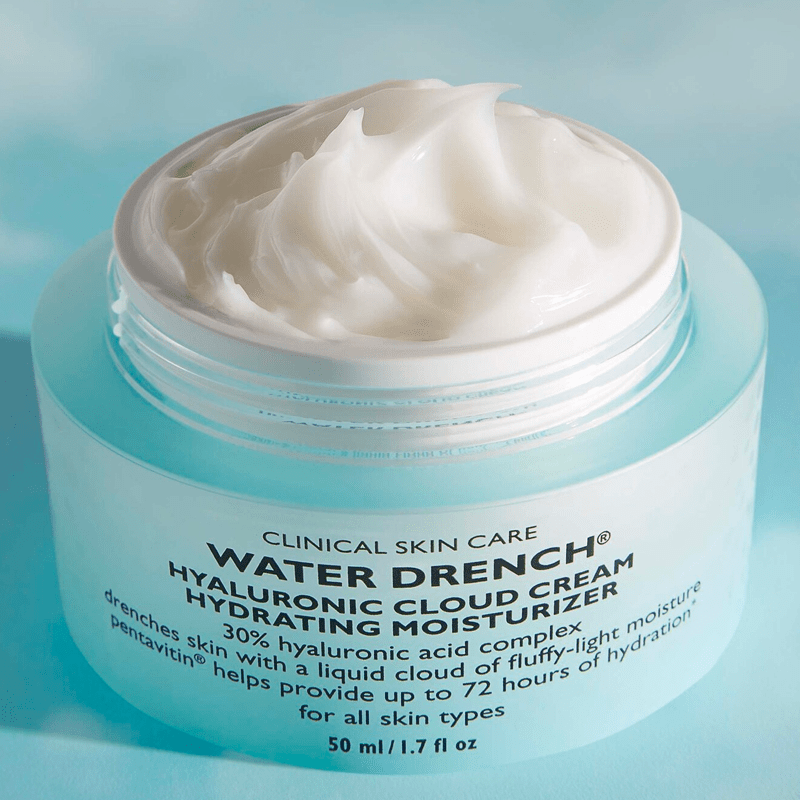 ** You can use the code "BEAUTYWITHIN" for 15% off your purchase
Key Ingredients: Hyaluronic Acid, Ceramides, Elderberry
Qualities: Oil-Free, Alcohol-Free, Fragrance-Free
Good for: Acne-Prone; Combination; Dry; Oily; Sensitive; Mature
Description:
This cream may not be a gel moisturizer but it's a delight for all skin types. This lightweight cloud-like fluffy cream infuses hyaluronic acid, ceramides, and elderberry to instantly flood skin with intense hydration.
What's the result? A happier, plump, and healthy looking complexion. Users note how smooth their skin becomes after using this cream, without causing breakouts or irritation.
Stellar Review:
"I've ordered this now multiple times and just adore it! Super lightweight, perfect under makeup, or in the hot summer months. Fabulous hydration as well!" –Bethany
Best Oil-Free Moisturizer for Summers
Laneige Water Bank Blue Hyaluronic Gel Moisturizer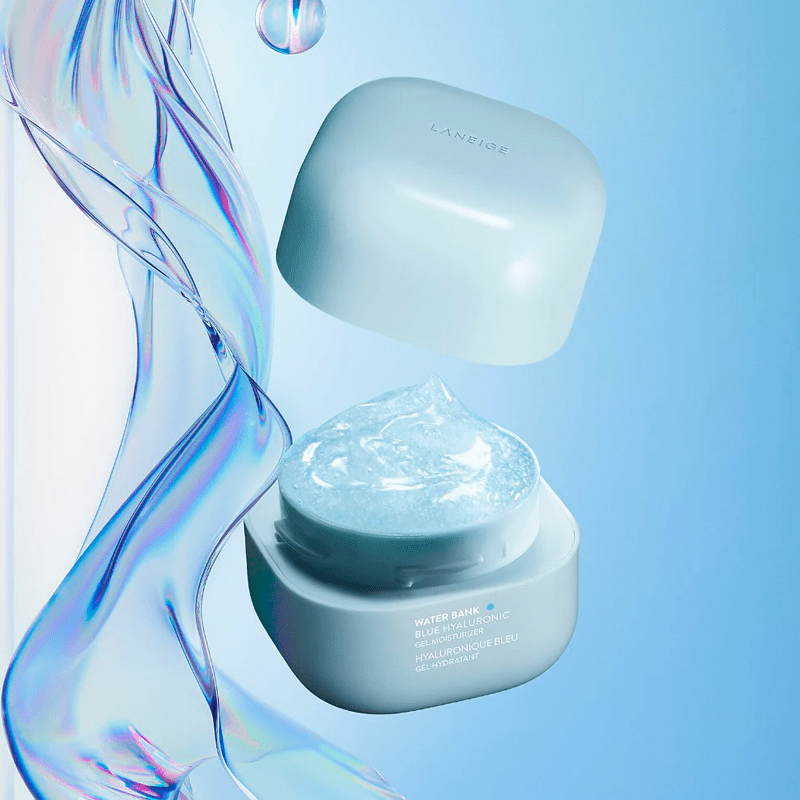 Key Ingredients: Blue Hyaluronic Acid, Mint Leaf Extract, Forest Yeast Extract
Qualities: Hypoallergenic; Non-Sticky; Hydrating Gel Moisturizer
Good for: Normal; Combination; Oily Skin
Description:
Here's a gel moisturizer that delivers long-lasting hydration – without the tackiness!
The unique, cooling, and refreshing gel infuses Mint leaf extract and Blue Hyaluronic Acid – a proprietary deep sea algae fermented hyaluronic acid – to leave skin feeling refreshed, soothed, and plumped for up to 48 hours. Users love how hydrated and nourished their skin feels; despite how lightweight the texture is, a little goes a long way!
Stellar Review:
"This gel is the perfect moisturizer for the summer months and if you are prone to oily skin or excess sweating. When you apply the product, it has a soothing and cooling effect and leaves my skin light but super hydrated. The texture and smell of the product is great too. Love it!" –Katrina Y.
Best Oil and Fragrance Free Moisturizer
Dr. Wu Hylaucomplex Intensive Hydrating Gel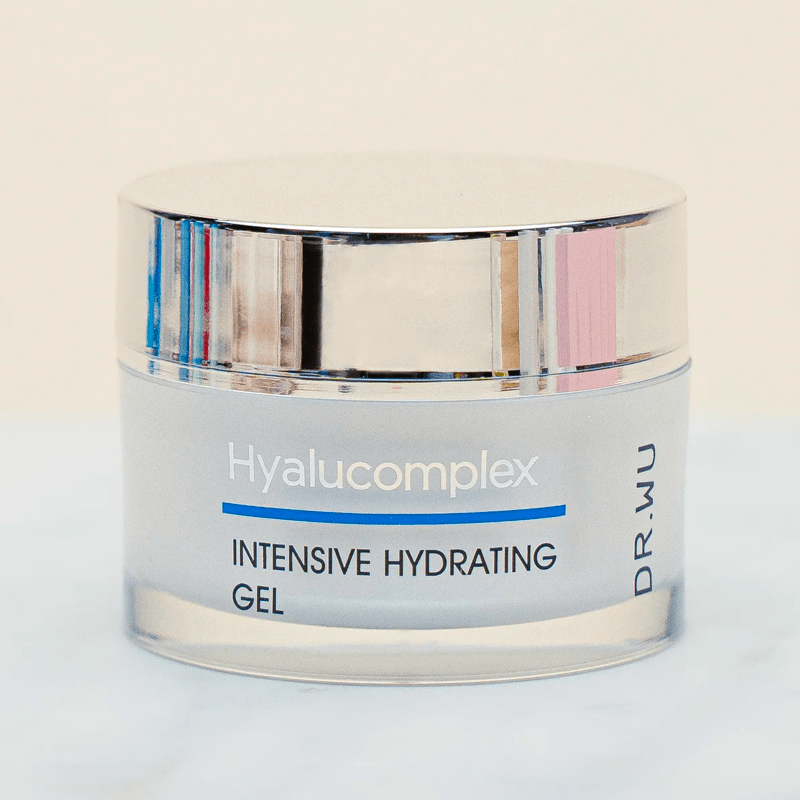 Key Ingredients: Sodium Hyaluronate, Hyalu-Oligo, Hyalufix GL, Optim-Hyal
Qualities: Lightweight; Oil-Free Gel; Alcohol-Free; Fragrance-Free
Good for: All skin types including: Oily, Dry, Combination, Sensitive, Dullness, Dehydration, Mature, Redness, Normal
Description:
Dr. Wu may not be a familiar name compared to the other products in this list, but this brand stands out at the top in Taiwanese skincare! This hydrating, oil-free gel moisturizer is the stuff of skin thirst-quenching dreams.
Using Dr. Wu's patented Hyalucomplex, this gorgeous non-sticky gel moisturizer contains all forms of hyaluronic acid to intensely flood your skin cells with hydration – from the deepest layers to the very surface – for soft, plump, and smooth skin.
Stellar Review:
"This is one of the DEEPLY nourishing and hydrating gels you can slather your face with! The hydration will last you all day without evaporating – it's got you! And no matter what skin type you have, if you prefer lighter consistencies that also deeply hydrate, this cream has their intensely hyaluronic acid to help – it's the real deal!" – Felicia
Best Oil-Free Night Moisturizer
Whind Medina Dew Rose Water Cream
Key Ingredients: Rose Dew Complex; Hyaluronic Acid; Glycerin; Panthenol; Antioxidants
Qualities: Cloud-like Gel Cream Texture; Natural Rose Scent; Primes Skin for Makeup; Deep Moisture Lasts up to 72 Hours
Good for: All Skin Types including Dry; Dehydrated; Combination Skin
Description:
This oil-free water cream may come at a steep price to some, but it's truly the stuff of luxury. From the pink weighted glass jar to the petal-soft and cloud-like gel cream, the Medina Dew takes inspiration from traditional Moroccan beauty rituals to unveil healthy and glowing skin from the inside and out.
This water cream is chock full of hydrating hyaluronic acid, panthenol, glycerin, and Whind's Rose Dew Complex to lock in moisture and leave skin appearing smooth, soft, and supple.
Stellar Review:
"This is the best moisturizer I have ever used! I have combination skin that constantly changes throughout the year, but this product simultaneously hydrates my dry areas and makes my oily patches feel clean, protected and not shiny. It's also a great makeup base. I don't need to use a primer now, instead going straight to foundation and for the first time, none of my foundation flakes over my dryer areas. Everyone would benefit from using this every single day." – Kim M.
Best Oil-Free Moisturizer for Sensitive Skin
Krave Beauty Oat So Simple Water Cream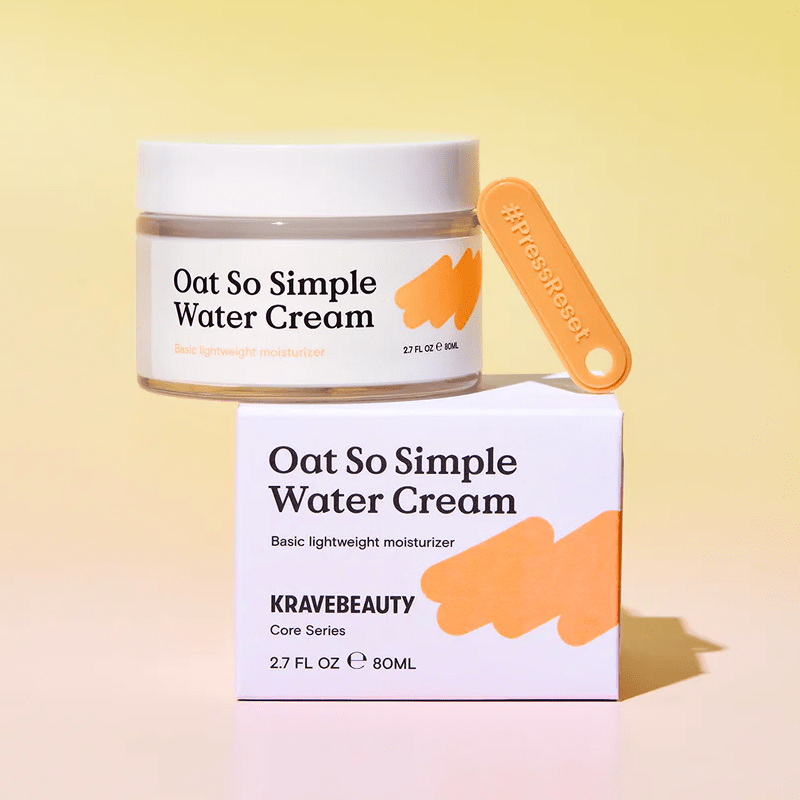 Key Ingredients: Oat Extract, Trehalose, Squalane
Qualities: Mixes Well with Active Ingredients; Airy, Featherweight Texture; Basic Formulation
Good for: Sensitive; Oily; Acne-Prone; Normal; Combination Skin
Description:
If your usual creams are filled with too many ingredients and your skin is too sensitive to handle everything, this baby helps take out the guesswork and saves your face from potential heartbreak.
The Oat So Simple Water Cream is an oil-free moisturizer with an airy and featherlight texture that glides and sinks in, leaving refreshed skin in its wake. It acts as a no-fuss for sensitized and highly reactive skin, and works in tandem with any active ingredients (or nourishing oils) you wish to apply without overwhelming your skin.
Stellar Review (edited for clarity):
"It is really simple. The cream is thick, there's no dominant fragrance, [and] once you apply it to your face, the cream melts. [It's also] really smooth and easy to apply. It's a bit sticky at first, but after it sinks in and dries in a few minutes, it gives a healthy glow to my face. Plus, the cream is fungal acne safe and the ingredients are very minimal, so it's safe for those with allergic or sensitive skin." –Michelle
Best Lightweight Oil-Free Moisturizer
Versed Dew Point Moisturizer Gel Cream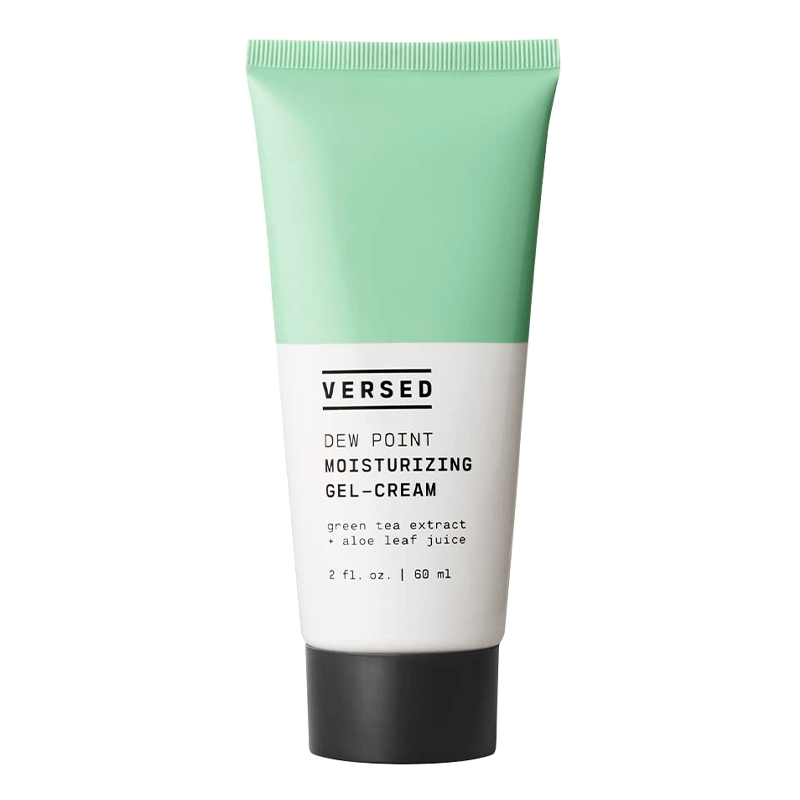 Key Ingredients: Green Tea Leaf Extract, Aloe Leaf Juice, Sodium Hyaluronate
Qualities: Vegan, Non-Comedogenic, Lightweight Jelly Texture, Won't Clog Pores
Good for: Acne-Prone, Mature, Dryness, Dullness
Description:
A cult-best seller in its own right, the Versed Dew Point Moisturizing Gel is perfect for soothing and hydrating as soon as it touches your skin.
This bouncy jelly cream infuses sodium hyaluronate with aloe leaf juice and antioxidants from green tea to leave skin feeling protected, nourished, and smooth without the stickiness or clogging pores.
Stellar Review:
"This moisturizer has more of a gel-like texture and makes my skin feel refreshed and look super dewy, without any oiliness! It seems super gentle and light but very nourishing. It doesn't feel too heavy when layered over other things (like the brightening serum). Highly recommend!" –Madi_Skincare
Best Oil-Free Combination Skin Moisturizer
Peach & Lily Glass Skin Water Gel Moisturizer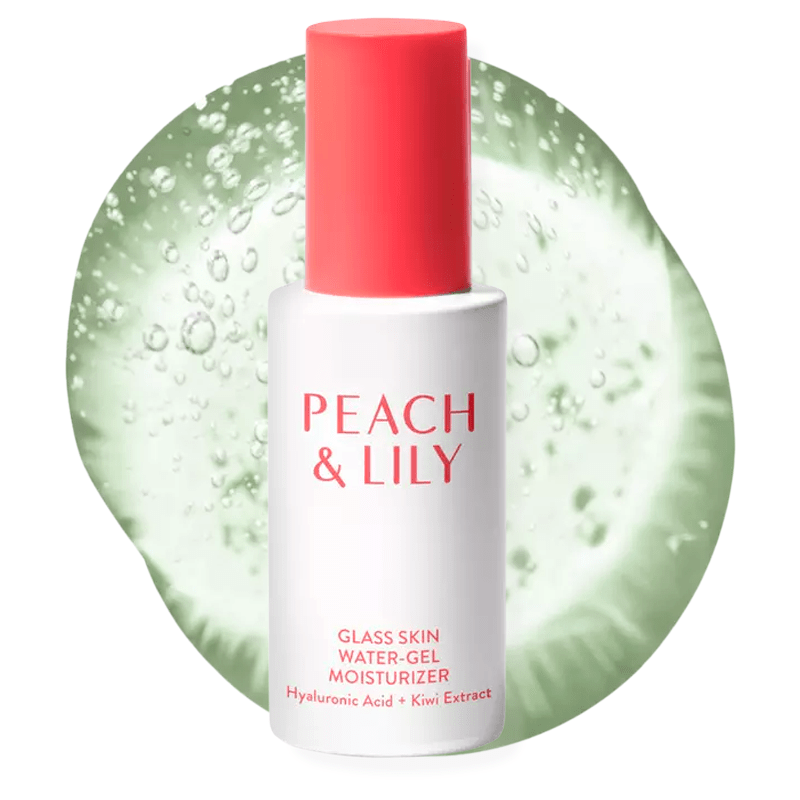 Key Ingredients: Chamomile Flower Extract, Hyaluronic Acid, Kiwi Extract, Peach Extract
Qualities: Light-As-Air, Refreshing Gel, Silicone-Free, Oil-Free
Good for: All Skin Types, Especially Oily, Combination, Acne-Prone Skin
Description:
This is the moisturizer that brought "glass skin" to the forefront of K-Beauty! This clear gel acts as a glass of water to instantly quench dehydrated skin, strengthen your skin barrier, and bring your skin back to its bouncy, plump, and radiant self.
What's the secret? A combination of brightening and antioxidant-rich fruits, chamomile, and hyaluronic acid work in tandem to give your skin a healthy glow – what's not to love?
Stellar Review (shortened for clarity):
"This moisturizer feels AMAZING!! There's NO stickiness, no greasiness, and my pores aren't clogged by this product. My skin has been looking healthy, smooth/"glassy", and hydrated using this product every AM/PM for the past 2-3 weeks." – Audria L.
Best Affordable Oil-Free Moisturizer for Teens
Bubble Skincare Level Up Balancing Gel Moisturizer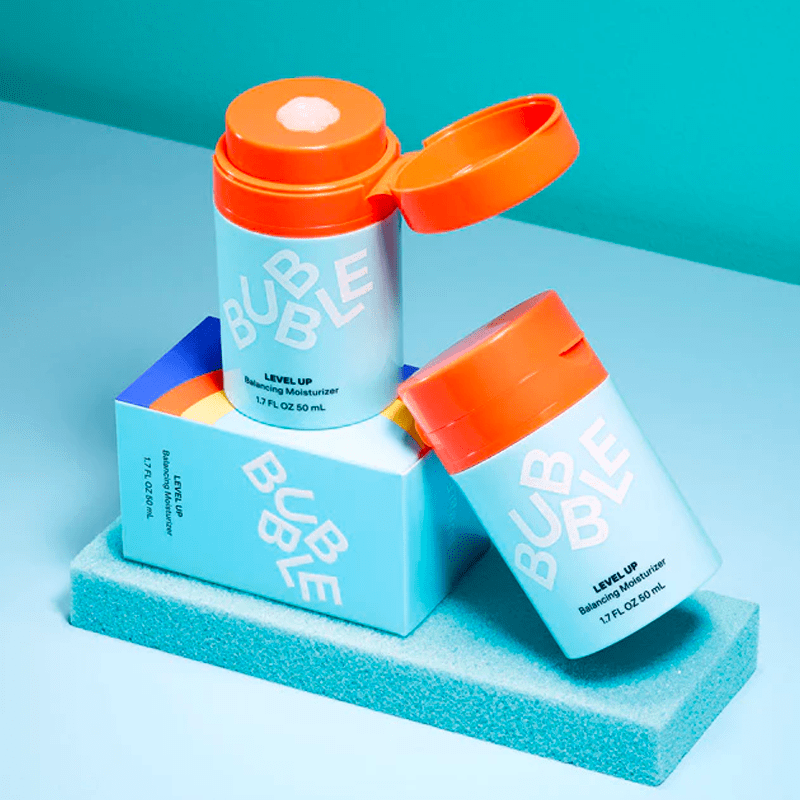 Key Ingredients: Zinc PCA, Niacinamide, Yarrow Extract, Bluelight Protection
Qualities: Hydrating, Shine-Free, Ultra-Light Gel Texture
Good for: Normal, Oily, and Combination Skin
Description:
Here's an affordable gel moisturizer that oily and combination skin types can benefit from! The oil-free moisturizer is perfect for skincare newbies and veterans alike to help reduce shine and leave skin feeling matte while still retaining moisture – thanks to Zinc PCA and Niacinamide.
As for the texture, you can expect refreshed and hydrated skin as you spread the gel across the skin. And thanks to its affordable pricing, this Bubble moisturizer makes the perfect product for teens and adults!
Stellar Review:
"Loved the Level Up Moisturizer. I have generally oily skin and it left my face feeling hydrated and refreshed without the heavy feeling that other moisturizers give. The moisturizer is also very compatible with my other skincare products and doesn't leave my face feeling itchy or red (I have extremely sensitive skin and other moisturizers have done that.) –Elizabeth
Best Anti-Aging Moisturizer for Oily Skin
Tatcha The Water Cream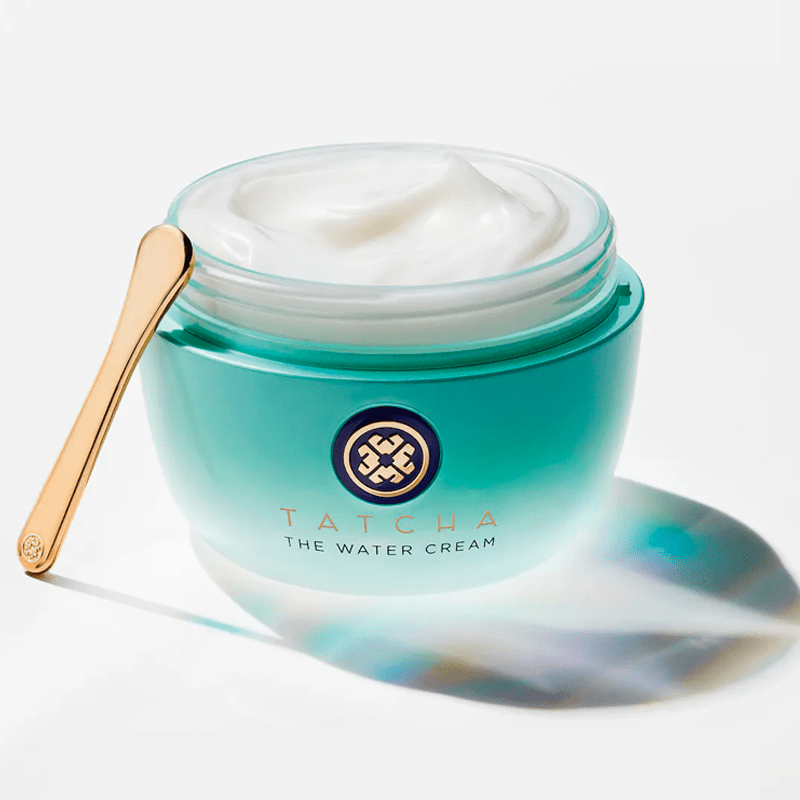 Key Ingredients: Tatcha Proprietary Hadasei-3 (Green Tea, Algae, Rice), Japanese Wild Rose, Japanese Leopard Lily
Qualities: Oil-Free, Non-Comedogenic, Non-Irritating, Dermatologist Tested, Cruelty-Free
Good for: Oily, Combination, Enlarged Pores, Firmness
Description:
This cream comes at a steep price point, but the investment is well worth it! The water cream is a luxurious, fluffy, almost pudding-like gel that glides and melts in the skin to leave skin nourished and soft.
The cream infuses botanical extracts from Japanese flowers as well as antioxidant-rich Japanese superfoods (dubbed as Hadasei-3) to restore hydration and suppleness back to your complexion. Let's also not forget the gorgeous packaging and spatula the product comes with!
Stellar Review:
"I was struggling with creams clogging my pores and switched to the Water Cream an no more it's so hydrating with no breakouts or clogged pores, I love it for the summer!" –Shannon
Best Oil-Free Moisturizer for Traveling
Vue de Puland Frozen Cream Cica Cube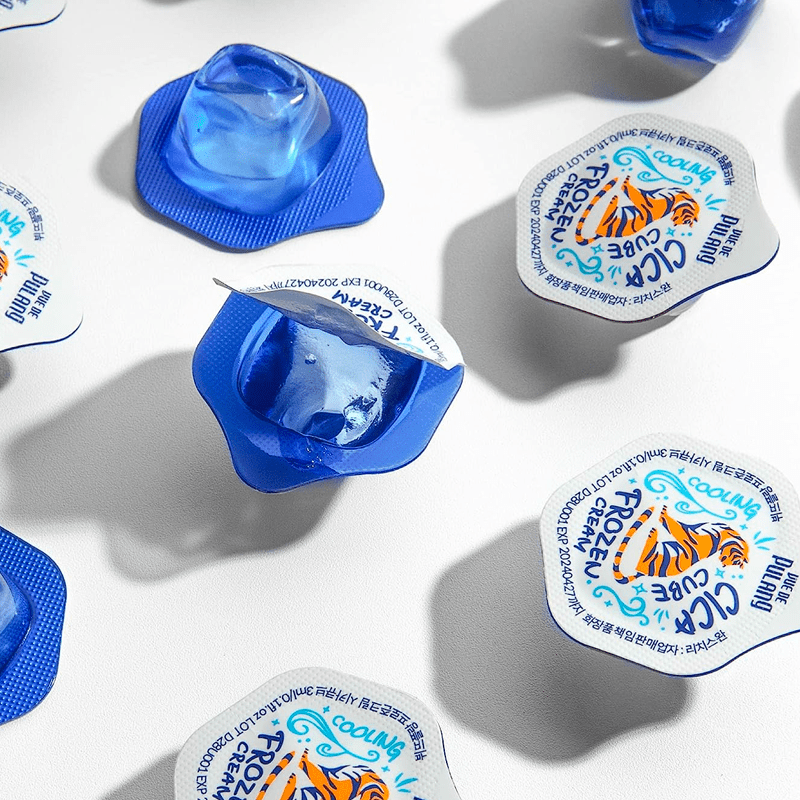 Key Ingredients: Centella Asiatica Extract, Triple Hyaluronic Acid, Panthenol, Icelandic Glacial Water, Betula Alba Juice, White Cedar Sap, Allantoin
Qualities: Cooling, Soothing, Hydrating, Velvet Gel to Iced Sherbet
Good for: Normal, Oily, Acne-Prone, Sensitive, Dry, Redness, Sun-Damaged Skin
Description:
Here's an innovative gel cream that's perfect for traveling and works well to calm and soothe irritated, hot-to-the-touch, and angry skin! This velvet-gel cream formula gives skin much-needed hydration and moisture.
To add to the magic, you can even toss the capsule into the fridge for a couple of hours to let it transform into an icy sherbet for extra cooling, depuffing, and relieving angry, sensitive, or sunburnt skin.
These compact moisturizers are individually packaged and perfect for taking with you on the go, but this baby's got a full-sized tub as well!
Stellar Review:
"I got these because I travel a lot and thought they were cute but wow…I went back and brought the full size to use at home because this is now my favorite moisturizer! It feels cooling on the skin. Plus, one capsule will actually last me at least 3 days when I travel! I am so in love with these travel sizes and the actual product!" –Zannahdeux
Skincare Routine Tips for Moisturizers
How do you best use moisturizers in your routine?
When using a moisturizer, you can get the most out of your product by applying your serums beforehand or massaging onto a clean but damp skin. You can also use moisturizer to help smooth out extra dry and flaky patches or mix in with an active ingredient to create a buffer and minimize potential irritation to the skin.
What are the best moisturizers for oily, acne prone, or dry skin?
The best moisturizers for your skin type will vary depending on you!
For oily and acne prone skin, you'll want to find oil-free moisturizers that contain sebum or shine control. Some ingredients include niacinamide, green tea, zinc PCA and bamboo extract to help control sebum production and maintain a matte look throughout the day.
For dry and dehydrated skin, you can still use oil-free moisturizers as long as they're infused with hydrating ingredients like panthenol, hyaluronic acid, and ceramides for rebuilding a healthy skin barrier.
Want to see more discount codes? Check out the link: https://shopmyshelf.us/collections/51665
Sign up for our free online newsletter: https://bwth.in/newsletter
Shop all of our curated faves at: https://bwth.in/shop
Subscribe to our YouTube Channel for more information and product recommendations: https://bwth.in/subscribe